A U.S. District Judge gave Microsoft a break Tuesday, essentially ruling that the jury that heard a patent infringement case against it was clueless. He then overturned its record $388 million verdict against the company.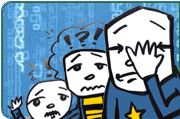 U.S. Dist. Judge William E. Smith issued the ruling in a case brought by Singapore-based Uniloc software against Microsoft. He found the jury was incapable of ruling on the case, vacated its verdict, and entered a new one in Microsoft's favor.
"The Court has reviewed the transcripts and evidence with painstaking detail in the light most favorable to Uniloc, careful not to act as the eleventh juror. What remains is a firm belief (indeed a certitude) that the jury 'lacked a grasp of the issues before it' and reached a finding without a legally sufficient basis," the judge wrote in his ruling.
The original case was brought in 2003. The jury made its award in April.
The ruling could be reversed on appeal, but for now it turns Microsoft from loser to winner in the case. Uniloc, which claimed Microsoft used its anti-piracy invention in the Windows operating system and its Office productivity suite, said it plans to appeal.
More about the patent issue can be found in this story from Microsoft Certified Professional. Microsoft also continues to fight another ruling against it in a separate case involving Microsoft Word.
My take: I have worried for many years about the ability of a jury of average men and women, essentially off the street, to decide complex technical cases, especially those involving mind-numbing patent issues.
Clearly, companies deserve their day in court, but they also need rulings that are well-founded in the law and make sense. This can require an understanding of technology that may take years to develop, not the weeks or months that a jury may be hearing a case.
Trial-by-jury is an important American right, but the more we learn about juries–and the more we see them dealing with complex technology cases–the less faith they inspire. I am loath to suggest that only specific judges should hear these cases, but the thought is tempting. Something needs to change.
David Coursey tweets as @techinciter and can be contacted via his Web site.