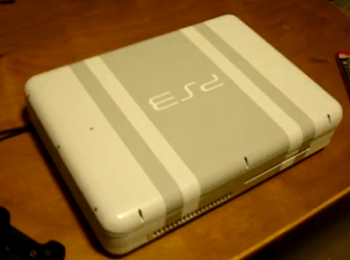 Ben Heck is my hero. He makes geek objet d'art. He adapts and un-clutters. He can make "slim" somehow slimmer. And when he's finished wowing YouTube gawkers, he auctions his feats of architectural derring-do off for charity.
The latest? An ivory 17-inch PS3 Slim laptop with curvy corners, light gray pinstripes, and Sony's new typographically twisty PS3 logo stenciled smartly across the lid.
Engadget says it's a 17-inch Gateway 1775w LCD that outputs 1280 x 720 or 720p resolution, and in the video below, Heck says the case is actually oversized to lie flush with the screen–there's thus a convenient compartment on the lefthand side to stash the power cable.
Check it.
What else to say, save bravo, Mr. Heck.
Follow me on Twitter @game_on