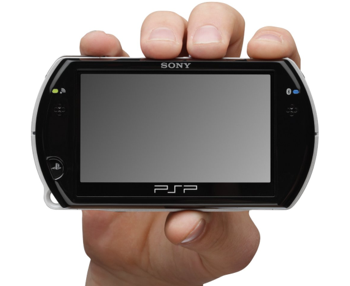 Sony's disc-free $250 PSP Go games handheld rolls out to retail today, and as expected, the company's nearly doubled the amount of PlayStation Store games content. Sony's digital shelves now include Polyphony Digital's fresh PSP-exclusive Gran Turismo racer, dozens of newly downloadable PSP games, and a smattering of the company's debut PSP 'Minis'–bite-sized titles priced in the $5 to $10 range.
The Store's topped up larders coincide with PSP firmware update 6.10, which launched overnight and adds "full compatibility" with Sony's Windows-based MediaGo mobile synchronization utility, a new music application called "SensMe" that auto-organizes your music based on a proprietary Sony algorithm, and a "tethering" option that allows you to use a Bluetooth mobile phone (or similar device) to link your PSP to the Internet.
Conspicuously absent? MediaGo Mac support. Sony's PSP sync software works in Boot Camp mode, of course, but–speaking from personal experience–the software won't detect the PSP running Windows in emulation software like Parallels.
What's in the store? Gran Turismo PSP ($40), God of War: Chains of Olympus ($16), Daxter ($16), Resistance Retribution ($32), MLB 09 The Show ($32), and that's just half of SCEA's titles. Poke around and you'll find stuff from Activision, Atari, Capcom, Codemasters, EA, LucasArts, Rockstar, Sega, Square Enix, THQ, Ubisoft, among others. If I'm counting accurately, it all adds up to 95 new PSP games, 7 debut PSP minis, and four new PSone classics. Check out the official PlayStation Blog breakdown for the list in full. Movies and TV shows aside, it's the biggest content overhaul Sony's made to the games section since the service debuted.
The downside? A lot of stuff's missing, like the PSP version of Final Fantasy Tactics, the remakes of Final Fantasy's 1 and 2, Final Fantasy VII: Crisis Core, and Metal Gear Solid Portable Ops. I still play those on disc, meaning I'm stuck dual-wielding handhelds until Sony works out whatever licensing, retail, or scheduling issues are holding them up.
Reactions on Sony's Blog have been generally positive this morning, though they range from "This is pure win" and "Best update ever…There's so much I want," to snippier comments like "These prices are comical…PSP Minis are extremely overpriced" and "Wow look at the price of those PSP games…you can buy them cheaper on UMD."
More PSP coverage:
The Ups and Downs of Sony's PSP Go
Sony's PSP Go Unboxed and Exposed
Game On: Apple iPhone and Sony PSP Fight to the Death
Follow me on Twitter @game_on