Twitter is testing a feature that makes it easier for you to organize the people you follow, by grouping them in lists. Twitter has also added a social networking spin on the new feature, called Lists, that makes it easier for other people to see who you're following and subscribe to their feeds as well.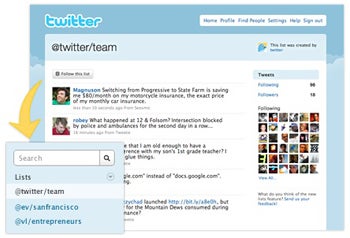 Get Organized
Twitter is a great way to find out what people are talking about by following popular topics, finding people with common interests, or connecting with popular celebrities, athletes, or even your favorite product brands. The problem is, once you're following more than a few hundred people, the endless stream of 140-character messages becomes unmanageable and the value of following so many people for news and information becomes lost.
Twitter's Lists feature will help you drill down into the wide range of people you're following and organize your incoming tweets by type. You can create a list for tech news, sports-related tweets, co-workers, college friends, and so on. Once your list is created, it will sit on your profile page where other people can take a look and choose to follow all the people on your list or navigate to individual profile pages to check out specific people you're following.
Lists Alternative
If you want to keep your lists private, Twitter will let you do that too, but that sort of defeats the public nature of Twitter. Besides, for the more private types there are options for creating lists already. Desktop clients like Tweetdeck and Seesmic Desktop have features (called Groups and Userlists, respectively) that let you organize your followers into separate columns. These applications also have the added advantage of incorporating other social networks into your feeds including Facebook and MySpace (Tweetdeck only).
Twitter is currently testing the Lists feature with a small group of users, and says the new feature will be rolled out soon to all Twitter accounts. Lists will also be available in the Twitter API, meaning third-party clients can add the functionality to their applications.
Twitter has been on a roll lately with adding new features. In August, the micro-blogging service announced it plans on rolling out an opt-in geolocation service and an improved method for 're-tweeting' or reposting messages created by other users.