The Sony PSP Go launched on Thursday, and judging by the early reviews opinions are mixed. On the one hand, you have a slick, more portable devic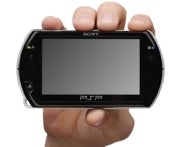 e with a crisp screen and new game formats. But legacy PSP owners will be dogged with some crossover issues, and most Sony PSP Go content is available through only one retail source. PC World's Matt Peckham will be handing down his own impressions of the device soon, but here are some early impressions to whet your appetite:
PSP Go
The PSP Go is a sleek-looking device, which is 16 percent lighter and 35 percent smaller than its predecessor, the PSP 3000. The screen has shrunk to 3.8 inches from 4.3 inches. The Go supports Bluetooth but, most importantly, the UMD drive is gone. That means all content, including games, must be saved to the device's 16GB internal memory or a Memory Stick Micro (M2) card. The Go retails for $250, and it looks like a 16GB Memory Stick Micro card will set you back somewhere between $60 and $80.
All About Sony
If you own a big collection of UMD games for the PSP, you'll probably want to hold onto your old machine. All of those games are now stuck on your old PSP. Sony has not created a way for the old games to be read and transferred to the new UMDless PSP Go, according to Ars Technica.
On the one hand, that's to be expected when a new system comes along. But really, the PSP Go is just a refreshed system; nothing is very new about it. It has no jump ahead in graphics, no new gaming capabilities, and no substantial new features other than Bluetooth connectivity. So why not create a mechanism to transfer games?
Games aren't the only legacy problem, either. The PSP Go now has a proprietary mini-USB cable, which means any old cable just won't do. The new cable is included with the device, of course, but if you lose or break that cable a new one will set you back at least fifteen bucks. That may not be the biggest deal in the world, but it's just one more hassle that doesn't need to be there. Then there's the memory stick. The Pro duo format is gone, so transferring your old data from a legacy PSP to the new Go has to be done through a PC or PS3. Again not a big deal, but it is another hassle.
Go Games
Instead of buying games from your local video game shop, all PSP Go games must be purchased online from Sony's PlayStation Store. Early reviews are complaining about the download speeds when you buy a new game from Sony. The average time seems to be at least an hour if not two to download a title directly to the Go. The problem may be the fact that the PSP Go's wireless connectivity is 802.11b. Why Sony didn't go with faster choices like 802.11g or the newly approved 802.11n connectivity is puzzling. Another downside: no background downloads. If you're downloading a game to the Go, the device will be busy for a few hours. The alternative is to download games to your PC or PS3 and then transfer them later on.
PSP Go Feel
Reviews are mixed about how the PSP Go feels in your hands. Both CNET and Ars Technica are complaining about the positioning of the controls, but reviewers for London's Guardian and Times both love the new placement. The new analog stick is reportedly more accurate, but it is smaller and early impressions say it takes some time to get used to.
Overall, people like the new device, but some significant problems like slow download times and a closed system could be problematic for the new system. What do you say? Are you picking up a new PSP Go to call your very own?
If you can't get enough PSP Go information, check out PC World's Game On blog for posts about PSP Go games, movie transfers from Blu-Ray discs, unboxing and more.
Connect with Ian Paul on Twitter (@ianpaul).