Amazon's Kindle DX is a lean and elegant eBook reader that may someday replace textbooks — or so they say. But is the device up to t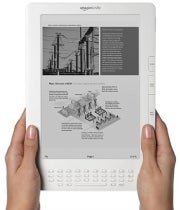 he task? According to a Princeton University study, the Kindle DX suffers from poor annotation tools and slow performance. And while future generations of Kindles (and/or other e-readers) may very well dispatch backbreaking textbooks to the trash heap of higher learning, they're not quite there yet.
The Daily Princetonian reports that the university's Kindle e-reader pilot program, which began last May, provided 50 students with free Kindle DXs. But after only two weeks, many recipients "were dissatisfied and uncomfortable with the devices," the college newspaper writes.
Amazon provided the e-readers for three courses. The pros and cons were:
Kindle pros:
A single lightweight device, better than lugging bulky, heavy textbooks
The Kindle display is easy to read
It conserves paper
Kindle cons:
Annotating pages is difficult
Citing courses is a challenge because Kindle reformats pages and uses "location numbers" rather than page numbers
The Kindle DX is slow
I found the students' gripes about the Kindle's poor annotation skills particularly interesting. The ability to interact physically with a textbook — mark up pages, write in the margins, paste sticky notes, and quickly flip through pages — is lost with an e-reader, although the Kindle DX does provide similar electronic tools.
The Princeton students certainly aren't luddites. But when you've spent your entire educational life leafing through printed textbooks, a sudden switch to an e-reader is bound to be difficult.
The transition to e-readers may take a generation. Perhaps the Kindle DX is better suited to elementary school kids? Train them when they're young, and they won't know what they're missing with a printed textbook.
Contact Jeff Bertolucci via Twitter (@jbertolucci ) or at jbertolucci.blogspot.com .