Savvy online shoppers will often use disposable credit-card numbers (which are available from PayPal and some banks) to protect their privacy.
Here's a perfect companion: inumbr, which gives you free, temporary phone numbers. These throwaways are ideal for things like Craiglist ads, where you might want to include contact information–but not your contact information.
To use inumber, choose your closest city or area code (the service has roughly two dozen of them), then specify how long you want the number to last: an hour, a day, or a week.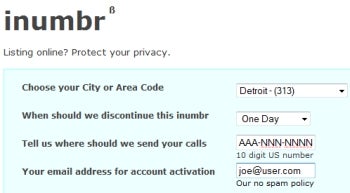 Next, enter your real phone number, which is where inumbr will forward incoming calls. You'll also need to supply an e-mail address in order to activate the temporary number.
Once you've done that, you can log into the service and access a wealth of options, including extending the expiration date, adding a second number (in case you can't be reached at the first one), and even checking voicemail.
All this is free, believe it or not, making inumbr a must-bookmark site.