Toss the words "Apple," "Tablet," and "Patent" into the same sentence, and you're bound to throw the tech world into a fit of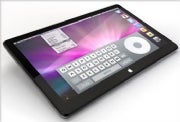 hysteria, rumor, and speculation.
So here's a little speculation of my own: An emerging Apple patent application that describes multitouch gestures has little to do with the fabled tablet computer that's supposedly coming out next year.
The patent, unearthed by AppleInsider, describes a touchscreen typing and pointing device, combining both so your hands never have to leave. Palms would be differentiated from fingers, and the device would know when you're typing and when you're pointing.
From the language, it seems clear that Apple's talking about a new kind of keyboard and mouse combo, not an oversized iPod Touch. Here's a snippet of the patent:
"Many attempts have been made to embed pointing devices in a keyboard so the hands do not have to leave typing position to access the pointing device . . . The limited movement range and resolution of these devices, leads to poorer pointing speed and accuracy than a mouse, and they add mechanical complexity to keyboard construction."
The patent application says there's a need for higher-resolution pointing methods that are still accessible from the typing position. This device would know when the user wants cursor motion, and ignores other gestures when the user is simply decelerating with the pointer.
So let's think about this: If you're using a tablet computer, why would you need a cursor? Everything's right there on the screen already. The capability to tap directly on icons and buttons eliminates the need for mouselike functionality. And with a virtual keyboard taking up most of the screen, that pointer would be pretty useless unless the output is coming from a different screen.
What's Apple planning, then? Maybe it's a new kind of keyboard, designed to kill the traditional mouse and keys combo. And if the patent application is related to the rumored tablet, I'm guessing that in this case, the device is acting as a funky remote control for home computers and laptops.
If Apple ever officially introduces the technology, I'm sure it'll induce more hysteria either way.