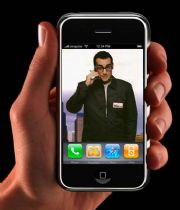 If you think America's iPhone frenzy is at an all-time high now, just you wait.
Apple could more than double its U.S. iPhone user base by saying so-long to carrier exclusivity — at least, according to predictions made by a Morgan Stanley analyst this week. The prophecy, published by CNN and other media outlets, suggests Apple's share of the U.S. smartphone market could shoot from 4.9 percent up to 12.2 percent were the company to add Verizon onto its roster of iPhone-approved carriers.
The bold claims come by way of Kathryn Huberty, an analyst who hasn't shied away from strong and often divisive statements in the past. (Just try a Google search for her name to see what I mean.) Huberty reportedly sent out a research note pointing out the potential value of a Verizon-iPhone deal. She used France as her model.
When mobile carrier Orange lost its exclusivity deal with the iPhone in France, Huberty says, the iPhone's market share grew by 136 percent. Given the excitement over the idea of expanded carrier options in America — not to mention the growing anger toward AT&T by many iPhone customers — it isn't tough to see how the same type of effect could be seen here.
While Huberty's made her share of mistakes before, this is one prediction on which she isn't alone. A Bernstein Research analyst recently projected the same doubled iPhone adoption with Verizon's addition, noting that Verizon's subscriber base is larger than AT&T's and also completely "untapped" when it comes to iPhone sales.
Sheesh. Between this new nugget and yesterday's Apple-tablet-will-become-the-Jesus-reader speculation, the leagues of professional Apple rumor mongers must be working overtime to catch up. I'm no Morgan Stanley analyst, but I'd predict a new wave of completely unsubstantiated Apple gossip is about to hit the blogosphere.
Come to think of it, let's just make that a standing prediction for any week of any year. I'm liking my odds on this one.
JR Raphael fine-tunes his crystal ball at eSarcasm, his cozy home for geek humor. You can keep up with him on Twitter: @jr_raphael.