Well, Apple's at it again. The company that never fails to galvanize the masses has stirred up a fresh debate with its latest logo controversy.
Apple, in case you've yet to hear, is taking on Woolworths over a new logo the supermarket chain has cooked up. The logo shows a "W" stylized into an abstract apple-like shape, leading Apple to contend the look is too similar to its own apple-shaped symbol.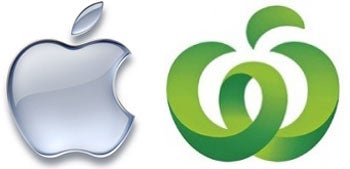 This isn't the first time Apple's gotten into a fight over its company's beloved image — far from it. Here are five other trademark tiffs Jobs' team has found itself involved in over the years.
1. Apple vs. The Beatles
The Cupertino crew and the Fab Four fought for decades over the rights to the apple logo and name. The quarrel started back in 1978, when The Beatles' company, Apple Corps, sued Apple for trademark infringement. Apple ended the argument by paying $80,000 and agreeing never to enter the music business — a promise that, needless to say, didn't last long.
A second settlement followed in 1991, when Macs started including MIDI software. That time, Apple paid a reported $26.5 million in a settlement that gave it the rights to use the apple logo for computer- and software-related products. Of course, once iTunes came around, things got dicey again. A third settlement further defined how both companies could use the name and image.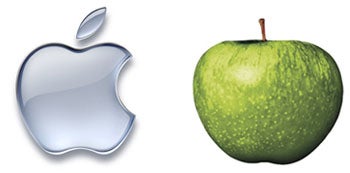 Ironically, in this case, Apple argued that the public was intelligent enough to be able to distinguish between its logo and Apple Corps' differently colored apple symbol. Looking at the next four cases — not to mention this week's Woolworths battle — one can't help but wonder when that logic slipped away.
2. Apple vs. GreeNYC
Apple moved to the offensive side of the ring in 2008, when the company cried out over New York City's use of an apple in its GreeNYC environmental campaign. The GreeNYC logo, Apple alleged, could cause "consumer confusion resulting in damage and injury" to Apple, along with "dilution of the distinctiveness" of Apple's trademark.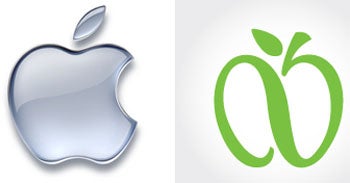 New York City's response: "The city believes that Apple's claims have no merit and that no consumer is likely to be confused. … This well-known city is using its new design in a variety of contexts that have absolutely nothing to do with Apple Inc."
The New York Times, fittingly, summed it up well: "They've got to be kidding."
3. Apple vs. the Victoria School of Business and Technology
Also in 2008, Apple took on Canada's Victoria School of Business and Technology over its apple-shaped logo. The company sent the school a cease and desist letter (PDF), according to VSBT's Web site, that demanded it drop the logo from its identity.
"Your business logo … reproduces, without authority, our client's Apple design logo which it widely uses. By doing so, you are infringing Apple's rights, and further, falsely suggesting that Apple has authorized your activities," Apple's letter to the institution reportedly read.
"Are you suggesting that anyone using any variation of an apple for technology education is infringing on Apple's trademark?" the school's president responded (PDF).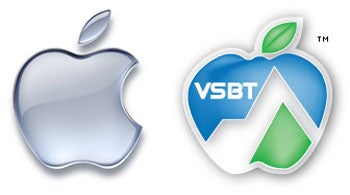 I'm still awaiting that answer.
4. Apple vs. Adults Only
Apple is currently in the midst of fighting Adults Only, a pornographic channel run by Australia's Foxtel, according to a story published in The Sydney Morning Herald. The Adults Only logo shown on the official Foxtel Web site involves a small red apple nestled within a stylized letter "S."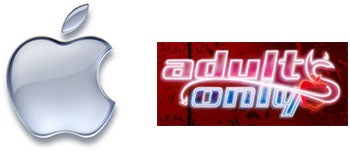 Wow. The resemblance is uncanny — at least, if you're speaking in a purely sarcastic sense.
5. Apple vs. Poison Apple
Apple's also attacking a music festival promoter called Poison Apple, The Herald reports. According to the paper, the promoter's logo shows a bitten apple sitting on top of crossed bones.
So, my question: What's next — Apple suing God because the fruit is too similar to its logo?
Hey, you just never know.
JR Raphael poses plenty of questions at eSarcasm, his garden of geek humor. You can keep up with him on Twitter: @jr_raphael.