Now that Microsoft's release of Windows 7 is just around the corner, everyone's falling over themselves with reviews and how-tos. I'm no different… this week I've got tips on tweaking Windows Media Center (which comes in Vista and Windows 7), plus some general Windows tips that make using the OS a little less frustrating.
Stop Windows Media Center from Using Your Entire Hard Drive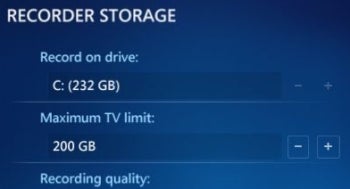 I'm a big fan of the Windows Media Center software that comes baked into most versions of Vista and Windows 7.
Specifically, I use it in conjunction with a TV tuner (four of them, actually) to turn my PC into a DVR–one that rivals TiVo, in my humble opinion.
Just one problem: If you use Windows Media Center to record TV shows, it can consume almost your entire hard drive.
For example, suppose you configure it to record 30 Rock, The Office, Mad Men, and your other favorite shows. By default, WMC records an unlimited number of episodes, and if a few weeks go before you're able to sit down and watch (that's what a DVR is for, right?), you may end up with a hard drive that's filled to the brim with TV–leaving you little or no room for anything else.
The solution is to limit the amount of space WMC can claim for TV recording. Here's how:
Start Windows Media Center.
Scroll down to Tasks, then over to Settings and click it (or press Enter).
Choose Recorder, and then Recorder Storage. (Note that these options appear only if you have a TV tuner installed and configured.)
Use the Minus arrow next to Maximum TV limit to decrease the storage (in 25GB increments) to the amount you want to allow WMC.
Click Save to finish the operation.
Make Documents and Media Open in the Proper Programs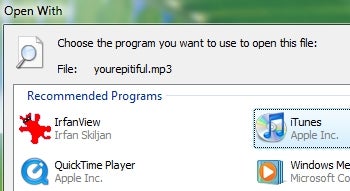 My wife's computer came with a trial version of Microsoft Office 2007, but I installed IBM Lotus Symphony instead–in part because it's free, and in part because I think it's easier to use.
However, when the missus tries to open certain file types, like Docx and RTF, up pops Office 2007–the trial for which has long since expired. Why don't these files open in Symphony instead?
For whatever reason, certain file types remain "associated" with Office, meaning Windows doesn't know it's supposed to direct them to Symphony. Fortunately, that's an easy thing to fix.
In Vista and Windows 7, you can click Start, type Default, and then hit Enter to load Windows' Default Programs menu. You can then click "Associate a file type or protocol with a program," choose the file type in question, click Change Program, and go from there.
Whew! That's a lengthy process. My preference is simply to right-click any file that's incorrectly associated (like, say, one of the aformentioned RTFs), mouse over Open With, and then click Choose Default Program.
If the program you want appears under Recommended Programs (and it should), click it, and then make sure the checkbox for "Always use the selected program to open this kind of file" is checked. Click OK and you're done. From this point on, any attempt to open that file type (not just that file) will result in Windows loading the selected program.
If the program doesn't appear, you can click Browse to locate its executable on your hard drive. That's not the easiest task in the world, but you'll need to do it if you want to reassociate that file type.
I should add that the most common file-association hassle you're likely to face is with media files: MP3s, videos, and the like not opening where you want them to. This solution works with those kinds of files as well as documents.
Force Programs to Run Full-Screen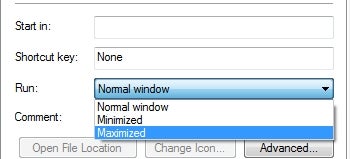 Reader Bill has a problem with Internet Explorer 8 running in Windows XP: Every time he starts the browser, it opens in a window rather than full-screen. He has to maximize it manually every time. What a hassle!
I feel your pain, Bill. In fact, I was having the same problem with Excel 2007. Fortunately, it's a simple matter to force any program to run maximized (i.e., full-screen) when you start it. Here's how:
Right-click the program's shortcut, and then click Properties.
This will open the Properties window with the Shortcut tab already selected. Click the pull-down menu next to Run and choose Maximized.
Click OK .
Now, when you start that program using that shortcut, it should give you a full-screen window.
Rick Broida writes PC World's Hassle-Free PC blog. Sign up to have Rick's newsletter e-mailed to you each week.