Dragon Age Origins won't grace shelves until early next month, but a breezy review of the PC version already showers Bioware's story-centric role-playing game with laurels and bouquets. Calling the game a "return to form," Game Informer's Joe Juba says Dragon Age "brilliantly combines the genre's old-school conventions with a few modern twists to create one of the most addictive and expansive RPGs of its kind."
It's just a glance at things, of course–hors d'oeuvres for the magazine's inevitable thrice-long print review–and to go live this early, one assumes a Bioware sanctioned and endorsed one. Still, it's interesting that Game Informer–not a venue noted for deep Windows-based games coverage–ran its review of the PC version first. At least someone's still waving a flag for PC gaming.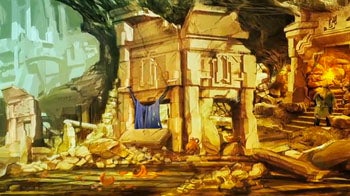 Related: Bioware released a featurette entitled "Creating A Living World" yesterday. It's about 3:50 long and doesn't shy from bold claims, like "the development team has really challenged itself to bring something new to the fantasy genre."
Dragon Age doesn't have to "bring something new" to succeed–the flourishing post-zed sections in bookstores cluttered with lowbrow franchise tie-ins put the lie to innovation's commercial appeal. Still, I'm an unapologetic genre snob. I despise wretchedly written "for-hire" fiction. It's a trash bin for lazy writers and snack food readers. The only guys doing a decent job of it–Simon Spurrier and Dan Abnett come to mind–end up hamstrung by their publishers' byzantine continuity logistics. The prose occasionally crackles, but the characterizations and plotting leave me cold.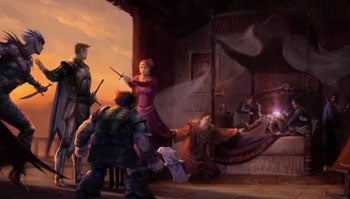 Computer RPGs with stories that upend cliché? The last I played was Planescape Torment. We've had nothing like it–a possible exception made for Bethesda's Fallout 3 (PCW Score: 90%)–since.
I chanced a look at lead writer David Gaider's The Stolen Throne, Dragon Age's official prequel novel (Gaider's also the game's lead scribe). I made it through the first chapter before giving up and tagging it for return. It's strewn with adverbs, e.g. "As he frantically ran on," or "he blindly forced his way," or "immediately he clamped his mouth shut," or "Maric didn't exactly relish the idea of his enemy falling on top of him." I trip up on that stuff–I can't help it. But moreover, the story's introduced in a way literary fantasy writers like Steven Erikson rail against: Splaying character history and motivation in the opening beats like cue cards. As if someone fleeing from murderers through trees and tangle would have presence of mind to recite his personal history, all neat and outlined, anyway. It smells like a manufactory, the kind of spoon-fed storytelling that ultimately challenges nothing.
Kurt Vonnegut once wrote "I have been a soreheaded occupant of a file drawer labeled 'science fiction' ever since, and I would like out, particularly since so many serious critics regularly mistake the drawer for a urinal."
Am I being too harsh? Expecting too much?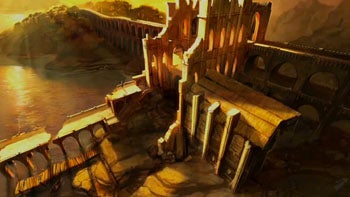 Not that it necessarily reflects on Dragon Age the game. Game narrative has its own dos and don'ts. It could just be a case of a good writer in one medium translating poorly into another.
Follow me on Twitter @game_on