The rise of SuperSpeed USB 3.0 is upon us. Active Media Products, makers of a wide variety of storage devices, has introduced a new line of USB 3.0 external solid-state drives (SSD). The drives will be available in 16GB, 32GB or 64GB variants and together make up the new Aviator 312 line.
The Aviator 312 can achieve read speeds as high as 240MBps, with write speeds of 160MBps. Thanks to USB 3.0's 4.8 gigabit-per-second (600 megabytes-per-second) transfer rate, your PC will be able to better take advantage of these speeds (USB 2.0's maximum transfer rate is 480 megabits per secon, or around 60 megabytes per second). Along with recently-announced products such as Freecom's Hard Drive XS 3.0, the Aviator 312 line will be among the first external SSDs to take full advantage of USB 3.0
Beyond offering speed, the Aviator 312 range also serves up portability. The new drives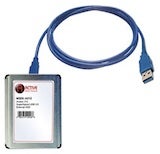 are less than 3 inches long and only 0.2 inches thick, according to Active Media (that's smaller than a credit card).
When released the drives will ship with a carrying pouch and a USB 3.0 Micro-B cable, which will conveniently power the device; no external power supply is required. Of course it is worth noting that to use the Aviator 312 range you will need to connect the SSD to a motherboard that supports the new USB standard.
No release date has been announced yet, but the company stress that the devices will be available before the year is out, with the 16GB model costing $89, the 32GB drive priced at $119 and finally the 64GB model setting you back $209. So while we're waiting for Active Media to announce a more solid release date why not take a look at our top five solid-state drives available now?
Follow Geek Tech and Chris Brandrick on Twitter.