Yesterday I told you how to limit the amount of hard-drive space Windows Media Center could claim for TV recording. Today let's look at the flipside: adding more storage so you can record to your heart's content.
I'm a longtime WMC fan; for years I've had a dedicated PC at the heart of my home-theater setup. But now that I'm recording more shows in high-def, the system routinely runs low on storage–and old shows are getting prematurely deleted as a result. Horrors!
As with any PC that needs more space, there are two basic options. First, I can replace the existing hard drive with something larger. That's a fairly major job, what with copying everything over to the new drive, making the swap, etc.
Second, I can install a second, larger hard drive that works in tandem with the original. Ideally I'd make this an internal drive, but my component-style case has zero free space inside.
So we come to the path of least resistance: an external, USB hard drive. My only requirements are that it be quick (at least 5,400 rpm) and quiet (I don't need noisy fans competing with the TV).
Fortunately, drives like this are easy to come by, and reasonably priced to boot. After a quick bit of online shopping, I found a 1TB (that's one terabyte) USB drive for just $100.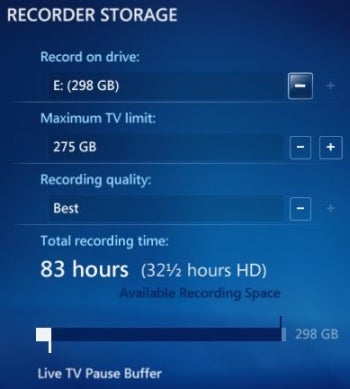 Switching Windows Media Center over to the new drive is literally a plug-and-play affair (in Vista anyway–I'm not sure about earlier versions of WMC). After you've plugged it in and verified that it's available to the system, follow these steps:
1. Start Windows Media Center, then make sure you're not currently recording anything.
2. Scroll down to Tasks, then over to Settings and click it (or press Enter).
3. Choose Recorder, and then Recorder Storage. (Note that these options appear only if you have a TV tuner installed and configured.)
4. Use the "plus" sign next to Record on drive to select your newly added external drive.
5. Click Save to finish the operation.
That's it! From here on, all shows will get recorded on the new drive. Don't worry: You'll still be able to access and watch your previously recorded shows, even though they're stored on the primary drive.
The only thing you can't do is get WMC to utilize both drives for recording; it's one or the other. Of course, if the new drive starts to get full, you can always switch back to the old one temporarily. Just follow the steps outlined above and choose your C: drive in step 4.