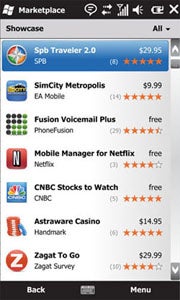 You can stop holding your breath now: Windows Mobile 6.5 is here. Oh, come on — I know you've been just dying to get your hands on Microsoft's new mobile OS, haven't you? Anyone? Hello?
All right, so maybe the new Windows Mobile isn't exactly blowing the blogosphere away with its grace and style. But perhaps the new Windows Mobile Marketplace, also introduced this week, will have something awe-inspiring inside.
Hey now — don't give me that look. It's not entirely impossible.
The Windows Mobile Marketplace
The Windows Mobile Marketplace (yes, Microsoft's version of the App Store) opened with 246 applications on Tuesday. It's accessible so far only via a WinMo 6.5 phone, but Microsoft plans to eventually offer a PC-based interface as well.
So what kind of options will you find inside? It's not all FreeCell and Minesweeper, believe it or not. Some of the apps included in the inaugural lineup are mobile offerings by Facebook, MySpace, Netflix, and Zagat. There's a Pac-Man game, a SimCity game, and a streaming radio utility by WunderRadio. No sign yet, however, of Poop the World or any of the iPhone's recent porn star app additions.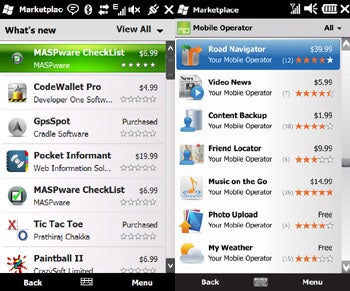 Prices in Microsoft's Windows Mobile Marketplace range from free (Netflix, CNBC Stocks) to $20 and up (Zagat to Go, SPB Traveler 2.0). And there'll be plenty more chances to drop cash in the future: Microsoft promises it has more than 750 developers actively working to expand the WinMo application menu.
Among the electrifying options on the way: Bing for Mobile. Oh yes, you read correctly — you'll soon be able to use the world's third-place search engine via its very own custom Windows Mobile application.
The WinMo Marketplace will provide a couple other perks not available in AppleLand: It'll allow you to return a limited number of apps within 24 hours of buying them, and it'll offer you the option of paying either via credit card or through your mobile service bill.
Still not excited? Hey, I tried. I guess the WinMo apps we really want — you know, things like BALLmer Buster and BSOD4me — will just have to remain within the confines of our imagination.
JR Raphael abuses his imagination at eSarcasm, his twisted gym of geek humor. You can keep up with him on Twitter: @jr_raphael.