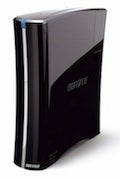 The USB 3.0 race heated up Wednesday, as Buffalo made it known that its previously announced HD-HU3 range of hard drives will be the world's first SuperSpeed drives to make it to market when they ship in Japan later this month.
Buffalo's new range of hard drives will initially be available in capacities ranging from 500GB through 1.5TB, with a larger 2TB model planned for later release.
Unlike other USB 3.0 hard drives, such as those from Freecom and Active Media, Buffalo's HD-HU3 line will not only be the first to market,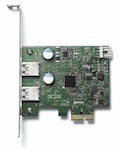 but the devices will also be actually usable out of the box. You won't be able to take advantage of the increased performance USB 3.0 devices will provide over USB 2.0 unless you have USB 3.0 ports on your PC, so until the new standard becomes more commonplace, manufacturers will have to provide a solution. Buffalo revealed that the new drives will come with a USB 3.0-friendly PCI Express controller.
No word on when these new SuperSpeed drives will arrive stateside, but here's hoping it's soon.
[Via Engadget]
Follow Geek Tech and Chris Brandrick on Twitter.