Upgrade from the break-room bulletin board and one-way customer e-mail lists–your business can take advantage of its own Facebook-like social network. You might try Facebook itself, of course, but the clash of business and personal communications could leave your vacation photos mingling with company news, and could lead to a lot of goofing off on company time. Instead, turn to a social network platform to make your own distinct site. Many services, including Grou.ps and SocialGO, offer functionality similar to that of Facebook; but in this tutorial I'll focus on Ning, which has been established for a few years and offers customization tools that can make your site behave almost any way you want.
Within your company, you could rely on a Ning social network to maintain schedules for anything from managing workgroup projects to organizing an office softball team. Calendar tools, blog-style posts, comments, and other systems could help connect people. And you could post photos and videos to recap events.
You could also use Ning to collaborate internally, updating everyone on a project's status, leaving ideas about new goals, recapping meetings, and otherwise keeping the office in sync. Best of all, nearly anyone can run the setup process, so you won't have to waste tech or design resources by getting those staffers involved.
But Ning is especially powerful for building a space in which to interact with customers. Think of the service as a companion to your company's Web presence. Your Ning social network can live at its own URL, as in mycompany.ning.com, or you can integrate it as a subdomain of your site, as in community.mycompany.com.
Build a Social Network
Ning's core functionality is free; you can create a site with a mycompany.ning.com URL in minutes. Such sites should be fine for most intra-office situations. To have Ning appear at a custom URL and to remove some of the site's branding and ads, however, you need to pay a monthly fee.
Whether you opt for the free basic service or choose premium options, the setup process is the same. After building a free community site, you can select premium options. Removing Ning's ads costs $25 per month (you could replace them with your own, if you want to); using a custom domain name, such as community.mycompany.com, is $5 a month; and removing all Ning branding from your site costs $25 each month. A free account includes 10GB of storage and 100GB of bandwidth per month, but you can pay $10 a month to double both amounts. (And each $10 you pay after that adds another 10GB and 100GB per month.)
To get started, visit Ning.com and walk through the prompts to set up your site. Enter a name for your network and a URL prefix (the mycompany in mycompany.ning.com). Click Create, and the screen will prompt you to either sign in to an existing Ning account or create a new one.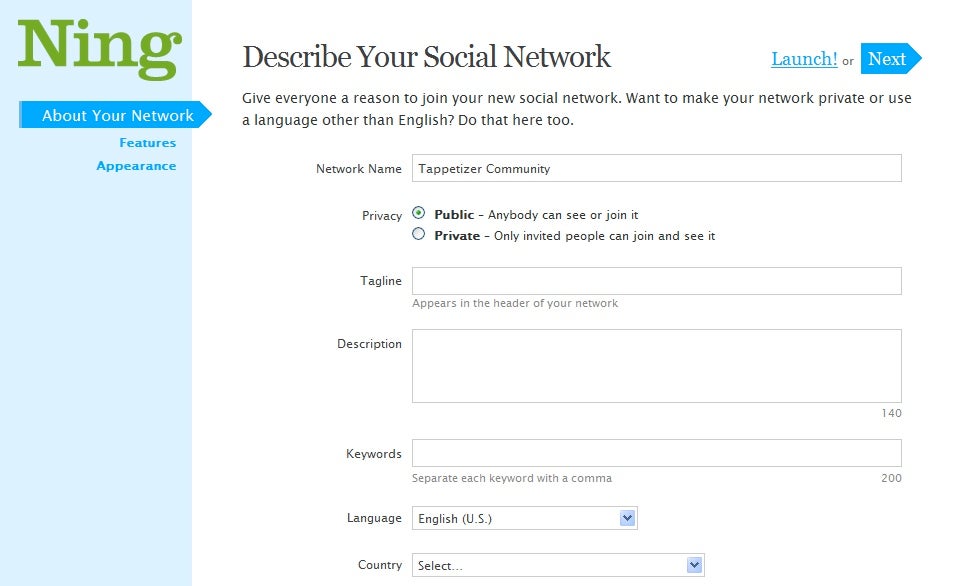 On the Describe page, enter a succinct tagline, a description, and keywords. Use these fields, especially the keywords, to help people find your network; consider using product names or other popular terms that relate to your site. Use the radio buttons to make the network public or private. Click Next.
On the Features page, click View all features to see every choice. Each module represents a feature for your network, such as blogging, video posts, and an event calendar. Drag them into your layout, and order them as you wish within the columns. To remove items, drag them out of the layout, to the left. Click a question-mark icon to get a description of that function. Click Next.
On the Customize Appearance screen, pick a template for your network, and then scroll down to make further changes to the design. You can swap in different colors and fonts as you go along; it's a good idea to match them to the look of your company's existing Web site. Click All Options to customize the choices even more and to upload your own images to use in the templates. If you know how to manage CSS, click Advanced to import or change the style sheet, which gives you complete control over your site's appearance and layout. Click Launch when you're satisfied.
After building the site, you can return at any time to make updates. Visit your site page–log in if needed–and click the Manage link. You can adjust the site features, layout, and other aspects. For example, be sure to click Manage, Network Information to find the prompt to upload a network logo to overwrite the generic Ning one.
Import Addresses and Invite Participants
Invite at least your first batch of people into your network. If you have a public network, more users will likely follow on their own, but here's how to get things started by scraping your mailing lists and other business contacts.
Within your site, click Manage, Invite Friends. If you use an online address book through AOL Mail, Google, Hotmail, or Yahoo, you can enter your user name and password, and Ning will get ready to contact those people. At that point, you can use check boxes to specify which people to e-mail, instead of sending a message to everyone. Alternatively, you can click Enter Email Addresses Manually to just type in addresses.
Best of all, you can click Import From Address Book Application to grab people straight from your contact application. Within Outlook or any other contact manager, choose to export a .csv or .vcf file. Select that item within the Browse Ning prompt, and click Upload.
Connect Through Your Own Domain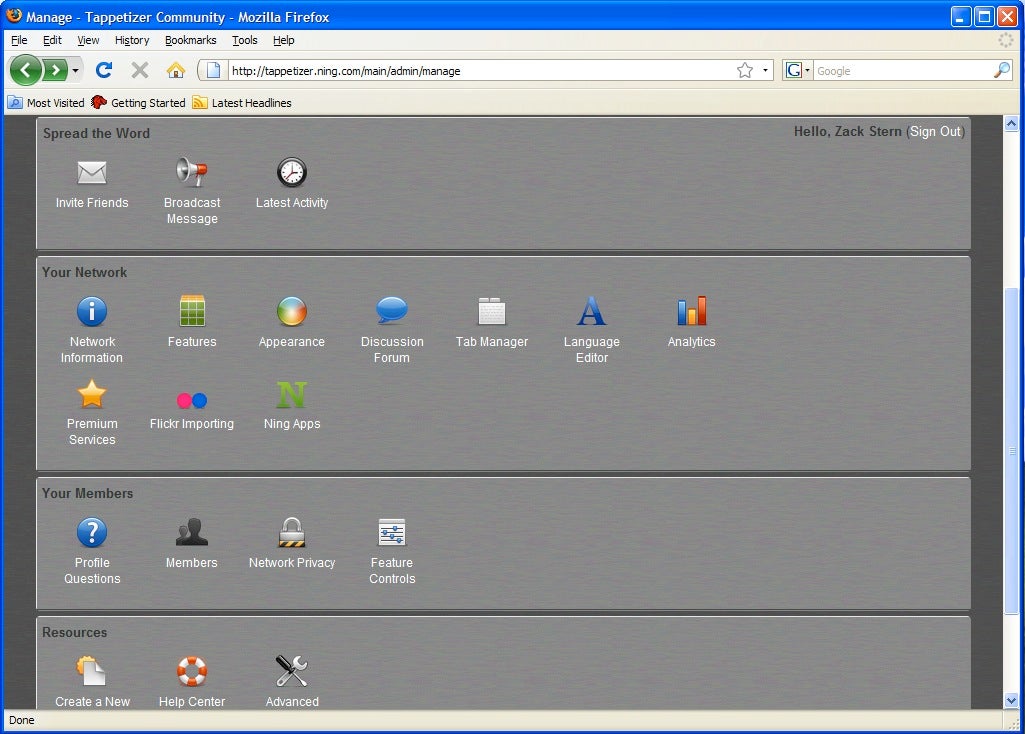 The free Ning service lets you create networks on top of the Ning.com domain, but for a $5 monthly fee you can route a custom domain to use Ning's servers. Here's how.
Within your Ning account, click Manage, Premium Services. Click Add under 'Point Your Domain Name to Your Social Network'. Enter the new domain. The full process varies slightly depending on the registrar where you bought the domain name.
In any case, you'll use the CNAME setting on your registrar's site to map the domain to the Ning server. Ning shows several tutorials for different domain registrars; if yours isn't included, check with your registrar for help.
On your registrar's page, visit the Advanced DNS or CNAME settings, and add a new CNAME. In the subdomain–sometimes called 'alias'–field, enter www. In the target field, enter mycompany.ning.com, replacing mycompany with your Ning site name. You may have to wait a couple of days for all of the domain servers to update, so be patient. If it isn't working after two days, try again, or ask your domain registrar for help.
Get Started With Ning Apps
Ning's basic functionality is immediately active when you launch your site, but you can add extras for specialized results. Ning calls these tools "apps," and they can expand your network's reach in several ways. Just click Manage, Ning Apps from your page to make selections. Many are free, but some cost money.
Some Ning apps bring toys and functions from other, established sites; for example, the Hulu app delivers TV shows and movies to your social network. Such apps can be fun distractions, but others can integrate Ning with your business. The WordPress and RSS Pages apps, for instance, display offsite content within your Ning network. The Twitter Tracker displays live search results from Twitter; you can use it to monitor and present notes about a specific term, such as "Windows 7." Apps for Cartfly Shop, Sellit, and other services add a commerce component, letting you sell goods within your network. The ooVoo and Tokbox apps add video-chat tools. Apps for Box.net, Google Docs, Huddle Workspaces, and Zoho bring file-collaboration tools to your network.
Use the search field or browse by type to find these add-ons for your own social network. Click Add Ning App to make a selection. Most apps have their own configuration settings. Within your social site, click the app name in the top of the page to make changes; in the RSS Pages app, for example, enter the appropriate details so that it can retrieve content from your Web site.
Combat Spam Comments
Robot spammers are everywhere, including on Ning. These marketing bots will comment on your site unless you take preventive action. Sure, you could eliminate community comments completely, but since those comments are a major aspect of social networks, you'll do better to spend some time setting restrictions and moderating spam.
Your network won't be spammed if only registered members can see the site, and if you know them all in real life. Consider setting this restriction for an intranet network. Go to Manage, Network Privacy, and pick the option to make your network private. Let anyone join the network, but also click the box underneath to approve new members before they can join.
If you have a public network, you should keep it accessible to everyone. Since Ning doesn't use its own bots to fight spam, however, you'll probably want to prevent people from commenting if they aren't members of your network. Go to Manage, Network Privacy, and select the settings to make the network public but to require you to approve new members.
If your network members post spam messages, you can kick them out through Manage, Members. Click the check box next to the offender's name, and pick Ban from Network from the pop-up Actions menu. Ning will delete the person's comments and show them the door.
Finally, you can choose to moderate–and approve–each item before it appears on your network. Use this setting with a group you only partially trust. Visit Manage, Feature Controls. Depending on the features you've enabled, you can require moderation for blog posts, photos, calendar events, and more.