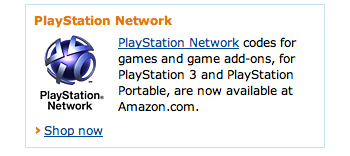 Sony Computer Entertainment America and Amazon US are joining hands to sell codes redeemable for games and game-related content through Sony's US PlayStation Network. The deal allows customers to purchase "digital access codes" through Amazon's video game store, then redeem those codes while logged into the PlayStation 3 or PSP's PlayStation Store, thus unlocking the relevant piece of digital content for immediate download.
Customers receive the code immediately upon purchase, and can email the code to themselves or gift it. The code remains in Amazon customers' "Your Games & Software Library" and can be retrieved at leisure.
"In addition to games we're also doing add-on content, for Blu-ray disc and network games," said PlayStation Network director Eric Lempel in a phone interview. "All in all right now there are over 200 pieces of content available."
So why middle-man Amazon when PlayStation gamers can access the same content direct from their consoles and handhelds?
"Amazon's been a great partner on the physical goods side, they're a customer of ours and we've been working with them for years and talking about this for some time," said Lempel. "Anyone who's been on Amazon knows they've got a great ability to raise awareness of products for segments of their audience they think will be interested in those products."
Part of the move, therefore is simply to let people know what Sony's selling, possibly growing the PS3's market share by shining Amazon's spotlight on brand and content.
"We're letting them know there's a network, there's all this stuff, there's all this great content," said Lempel. "Here are all these games that'll also have reviews attached to them."
To PS3 owners still wondering why they'd bother, Lempel says "it's another option," adding that it's also about acclimating PS3 owners who've yet to visit or use the store.
"It might fit that consumer who hasn't yet made a purchase on PlayStation network, who might not have been comfortable," he says. "I mean, I certainly hope they're comfortable putting a credit card in their PSP, but if they're not, they might feel comfortable buying stuff from Amazon. They may in fact already have an account and a history with Amazon."
Rounding out the list of Amazon perks, Lempel notes that Amazon offers payment options the PlayStation Store currently doesn't. "And of course gifting, which is a key point," he says. "We don't have that ability today on the PlayStation Store. If you want to buy a gift for someone, Amazon makes it really easy."
Additional Sony coverage:
Follow me on Twitter @game_on