AT&T may finally see its first Android phone, if some newly published rumors are to be believed. Dell is currently working with the carrier on launching a new Android-powered device, according to sources cited by The Wall Street Journal and other publications. If true, it would be AT&T's first venture into Android territory, making it the last of the big four U.S. providers to adopt the platform.
Hey, better late than never, right?
Dell, Android, and AT&T
The Dell-AT&T Android phone, The Journal says, could hit store shelves as soon as early 2010. The paper vaguely cites "people briefed on the plans" as having provided the information. And here you thought that kind of vaguely sourced speculation was reserved only for Apple products.
Dell's Android phone would supposedly be keypad-free, using only a touchscreen for navigation, and would feature a "tiny camera" — but hey, size isn't everything. No other details are provided, aside from the fact that the device would be somewhat similar to a Dell phone introduced in China this past summer.
That phone, some tech blogs allege, is the Dell Mini 3i — a touchscreen device shown off at an event in August. The version that would come to the U.S., however, is said to be upgraded with "some different features."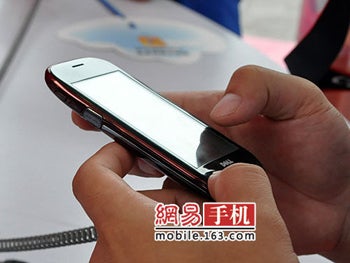 Android Explosion
In the big picture, an AT&T Android phone could play right into analysts' expectations. A projection released by Gartner this week predicts Android will shoot ahead of the iPhone, the BlackBerry, and Windows Mobile by the year 2012. The pundits believe Google's mobile OS will command a full 14 percent of the global smartphone market by then — seven times its current level — making it the second most used phone system in the world. Other firms have echoed Gartner's sentiments that an all-out Android explosion is just waiting to occur.
One thing's for sure: The Android momentum is certainly picking up. In the past week alone, Google and Verizon have signed an agreement to develop new Android phones together; Sprint has unveiled its new Android-based Samsung Moment; and T-Mobile has taken the wrapping off its new Samsung Behold II Android handset. If AT&T is truly joining the pack, hold onto your hats, kiddos — that boom everyone's expecting may be about to begin.
JR Raphael enjoys satirizing smartphones at eSarcasm, his humble home for geek humor. He also enjoys pudding.