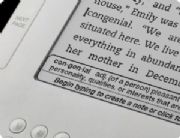 It looks like Amazon's timing is spot on. The online bookseller's lower $259 price for the Kindle 2, along with several other factors, will help boost sales of eBook readers significantly for 2009, according to a new study by Forrester Research.
Other pro-eReader developments include: more affordable devices, like the $199 Sony Reader Pocket Edition; more eBooks and other content; better distribution; and a steady stream of media reports about the Kindle and its competitors, writes Forrester analyst Sarah Rotman Epps in her blog.
U.S. eReader sales are growing faster than expected. In May 2009, Forrester predicted that U.S. eReader sales would reach 2 million. But its latest report hikes that projection by 50 percent to 3 million for 2009. Shopper interest this holiday season — spurred in part by media buzz about the Kindle — will play a big role. Forrester predicts that 30 percent of this year's eReader sales will occur in November and December.
If Forrester's crystal ball is clear, U.S. eReader sales could double to more than 6 million in 2010, bringing cumulative U.S. sales to 10 million.
OK, there's room for some healthy skepticism here. Consumer demand for these limited-use gadgets may not be as great as Forrester predicts, particularly when other studies show that eReaders need to hit the $50 price point to attain mass-market appeal. And many eBook fans will likely prefer using smartphone apps like Kindle for iPhone in lieu of a dedicated eReader. After all, there are only so many gadgets one can carry.
On the other hand, a lot of players are entering this market, and that's bound to boost sales numbers. As Forrester points out, a new slew of tablet devices from Apple, Microsoft, and others will (likely) offer eReading capabilities, thereby attracting media buzz and customers. And other companies, including heavyweights Asus, Samsung, and Barnes & Noble, are making an eBook play too.
Who knows? The eReader could very well challenge the iPod as this year's stocking stuffer of choice.
Contact Jeff Bertolucci via Twitter (@jbertolucci) or at jbertolucci.blogspot.com.