One of my longstanding complaints with Windows Media Center (which for the most part I love) is its lack of support for playlists.
Actually, it supports them just fine–so long as you build them in Windows Media Player. But if you want to actually whip one together from the couch, using your remote, you're sorta outta luck.
Not for long. The Windows 7 version of WMC includes a long-overdue playlist builder. You can see it in action in this YouTube video.
Vista users can accomplish roughly the same thing, but it involves a little hoop-jumping. Here's how to create and save a playlist in Windows Media Center:
1. Navigate to the song, album, artist, or whatever you want, then choose Add to Queue. (This will immediately start playing the select item(s), but don't worry about that.)
2. Repeat the process for additional songs, albums, artists, etc. The Queue is destined to become your playlist, so add everything you want.
3. Return to the Start screen and select Now Playing + Queue. Click View Queue, then Edit Queue. Here's where you can modify the order of your playlist. To move a song up or down in the list, click the up or down arrow next to the song title. (You can also remove a song by clicking the little x.)
4. Click Done to return to the previous menu.
5. Select Save As Playlist, give your playlist a name, and then click Save. That's it!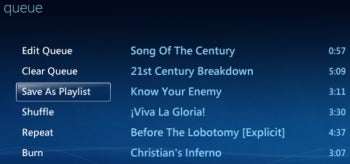 Now, when you navigate to Windows Media Center's music library and the Playlists menu, you'll see your newly created list.