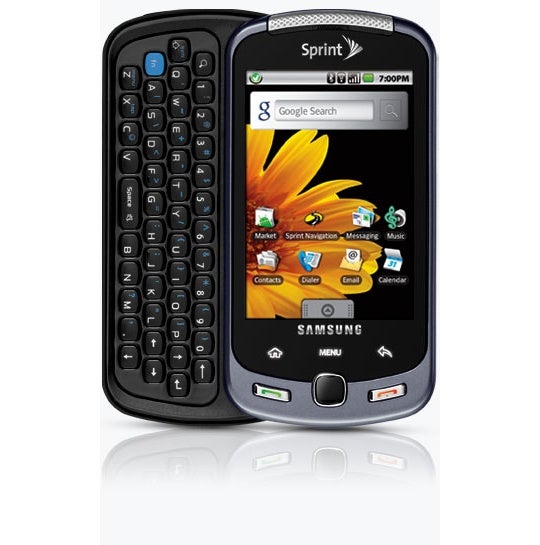 The unveiling of the Samsung Moment is definitely the biggest handset announcement at the Fall CTIA conference in San Diego. With an Android OS, AMOLED technology and a beefy processor, the handset definitely piqued my interest and I was curious to see how it stacked up to other Android offerings, like the HTC Hero and Motorola Cliq. Luckily, I got a chance to play with it and really liked what I saw.
The Moment's 3.2-inch AMOLED display is definitely the handset's best feature: Colors looked bright and accurate, animations were smooth and details were crisp. It also has a very wide viewing angle so you can view video with the phone on a flat surface with no distortion or color change. In terms of battery life, Samsung said that the Moment has an estimated talk time of 5.5 hours.
I was initially wary of the Moment's optical mouse; I found the Omnia's jumpy and too small for my liking. The Moment's was a little bigger than the Omnia's, however, and I was pleased with the way it handled. Honestly, I'm not sure how much I'd use the mouse over the touchscreen for navigation, but it is nice to have that option.
It is also nice to have the option of the keyboard; I'm not a huge fan of the native Android keyboard. For the record, the HTC Hero does not have a keyboard, but the Motorola Cliq does (and one of the best keyboards, in my opinion).
The power of the Moment's 800 Mhz processor was apparent when I tested a few videos. Playback was very smooth with no stuttering or buffering. I also opened up multiple applications and didn't experience any sluggishness in performance. I'll put the processor to more rigorous tests, however, when I get a review unit in hand.
I took a few snapshots with the Moment's 3.2-megapixel camera and was impressed with the quality. The autofocus worked quite well and the my pictures looked great on the AMOLED display. My hands-on tests, however, took place in a brightly-lit room so no word on how it stands up to darker environments.
In terms of software, the Moment has the standard Android user interface; no fancy overlay or branded tweaks. Some find that Android UI dull and unfinished, but I personally don't mind it. I was a bit disappointed, however, that it wasn't running a version of Samsung's super touch-friendly TouchWiz overlay for Android. We'll see it on other models though, like on the Samsung Behold 2, which was also announced this week. Samsung said that they have no plans to bring TouchWiz to the Moment.
Overall, I think the Moment is an enticing option for Android fans. Sure, it might not have a fancy UI like the Hero or Cliq, but the hardware is quite impressive and definitely makes up for any software shortcomings. One thing's for sure: Samsung knows how to make an AMOLED display and that is something that sets the Moment apart from the competition. The Moment will be available on November 1 and will cost $180 with a two-year contract.
Note: When you purchase something after clicking links in our articles, we may earn a small commission. Read our affiliate link policy for more details.