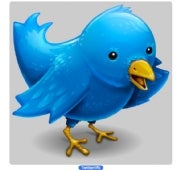 It couldn't have happened at a worse time. Microblogging service Twitter suffered an outage Thursday, just as it reportedly was negotiating a licensing deal with either Google or Microsoft. The up-and-down day for Twitter mirrors the service's bigger struggles as it grapples with technical SNAFUs, a business model, and its blockbuster success.
First the Downs
For much of Thursday, users could post tweets to their own streams, but updates from their followers were scarce at best. After admitting to a totally unspecified "unplanned site outage" late Wednesday, Twitter waited until almost 2 p.m. ET Thursday to elaborate on the problem. It explained in vague terms that "timelines remain stale for users." It wasn't until sites such as TechCrunch started speculating that Twitter had fallen victim to a DDOS attack that Twitter posted an official statement explaining: "The problems this morning were caused by a bug triggered by an edge case in one of the core services that powers Twitter."
At precisely 3:54 p.m. on Thursday, Twitter was reporting that "Most users are seeing freshly updated timelines. However, due to the previous problems, users of our SMS service may experience some missing tweets." As of about 10 p.m. ET on Thursday, Twitter hadn't updated its status any further. A search of Twitter.com under the "outage" search term on Thursday night yielded no new reports of user issues.
Now the Ups
Meanwhile All Things Digital reported Thursday that Twitter is in talks with both Google and Microsoft about the prospect of multimillion-dollar deals to integrate Twitter in some way with outside search engines. News agency Reuters chimed in with a report stating Twitter's discussions with Microsoft and Google are taking place separately, and that if negotiations work out, the potential partners would be able to incorporate Twitter tweets into Internet search results.

Would users actually benefit from a Twitter partnership with a major search engine? As I see it, only if the search engines were discriminating enough to combine useful information feeds from Twitter with other search results, while screening out less-pertinent data about "what you're doing right now."
Still, some type of real-time Twitter trending of topic popularity could help search engines deliver more relevant results. By pairing hot tweet topics with topical search results Bing, for example, could boost relevancy in its search results. For example, nobody cares what one individual thought of a movie last night, but if a search engine could generate an instant movie thumbs up or thumbs down based on millions of tweets that could help the movie going public find a movie to see.
The Search for a Business Model: Can Google Help?
The search for some type of practical business model has been a cloud hanging over Twitter for some time now. Many wonder if the popular service can sustain itself without generating significant revenue. Would service outages plague Twitter if it subsisted on a shoestring budget? I suspect yes.
Twitter has no fully-disclosed revenue model, yet places its total valuation at about $1 billion. Huh? Meanwhile, investors are dumping more money into the service. It is reported venture capitalists poured $100 million into Twitter recently.
Flying in the face of conventional business wisdom, Twitter co-founder Biz Stone denied that the company will take on any advertising this year when speaking at 140 Twitter conference in September. He didn't comment on whether ads might appear next year.
Twitter Too Big To Fail?
For many, Twitter has turned into a crucial business and social resource. If that is the case, does Twitter deserve a financial rescue should it be in danger of failing? Some suggest that the answer is yes.
Jay Scott, former content director at COXnet, the Internet arm of Cox Newspapers, points out that many businesses today rely heavily on Twitter and other social networks for promoting products and delivering customer service. Twitter outages carry social, political, and entertainment ramifications, according to Scott, who is now an independent social networking consultant. Twitter played a significant role in helping Iranian protesters this summer both organize and communicate with the outside world.
On the other hand, depending too much on a single social network has significant drawbacks. If everyone from Madison Avenue advertisers to Iranian revolutionaries become too reliant on one communication tool, what will happen to the world if Twitter never discovers a workable business model?