You know those little mazes printed on kids' menus? My tykes love 'em, but usually they're done in about 30 seconds.
Enter Printable Mazes, a site that's home to–can you guess?–printable mazes. Hundreds of them, in fact, all divvied into five categories: Simple, Easy, Medium, Hard, and Difficult. (Aren't "simple" and "easy" the same thing? Just saying.)
Within each category you'll find various maze sets, which are PDFs containing 10 mazes apiece. All you do is download and print. (Then stow a few in the car for when the kids need an activity.)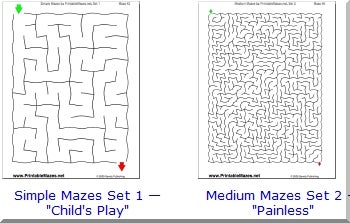 If you'd rather get a mountain of mazes in one fell swoop, you can buy a 250-page printable maze book for $9 (which seems a little steep to me).
The site is owned by Savetz Publishing, which offers a boatload of other printable-stuff sites, including contracts, coloring pages, recipe cards, and even play money. Definitely worth checking out.