Acer has unveiled a new version of its Aspire One netbook running Windows 7 and plans to put it on sale simultaneously with the new operating system's debut next week.
The Aspire One D250 has a 10.1-inch screen, which is the same size as current Aspire One computers but the resolution has been increased to 1,280 pixels by 720 pixels. The computer features a 1.66GHz version of Intel's Atom N280 processor and a 160GB hard-disk drive.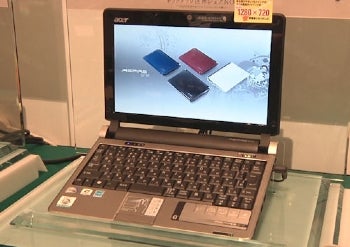 The basic battery will last up to 3.5 hours, but Acer will offer an optional long-life battery that can run as long as 7.5 hours.
In Japan, the Aspire One will ship on Oct. 22 with Windows 7 Starter edition and cost ¥46,800 (US$553). Prices and launch dates for other markets were not immediately available.
The laptop is one of several Windows 7-based machines that Acer Japan said it will begin selling next week.
Versions of its Aspire Timeline with 11.6-inch or 13.3-inch screens will also be offered with Windows 7 Home Premium at prices beginning at ¥59,800 and ¥89,800 respectively. The former PC is based on an Intel Celeron processor while the latter features a Core2Duo processor.
Acer will also launch a laptop running AMD's Athlon II X2 dual core processor. Aimed at multimedia applications, the computer has a 15.6-inch screen and ATI Radeon HD graphics. Prices for the computer will start at ¥69,800.