Things are looking a bit brighter for some T-Mobile Sidekick owners, as some people are reporting the return of lost data. T-Mobile, meanwhile, says it will compensate customers who suffered permanent data loss. Over the weekend, thousands of Sidekick owners reportedly were shocked to see their cloud-based contacts, calendar appointments, and photos disappear after a server crash at Danger, a Microsoft subsidiary.

Microsoft/Danger has since made progress in stabilizing the service, but T-Mobile urges all Sidekick users not to let their devices lose power until the issue is completely resolved. In an updated statement, T-Mobile said that Microsoft/Danger might be able to recover the personal information for some, but likely not all, users who suffered data loss. Keep an eye on T-Mobile's Sidekick forums for further updates.
Lose your Sidekick data, get $100
If you are one of the unfortunate souls who suffered permanent data loss from the server crash, T-Mobile says it will be sending you a $100 gift card in the next fourteen days. You will be able to use this gift card on your T-Mobile bill or for other T-Mobile products and services. The gift card will be in addition to the free month of data service that T-Mobile has already offered Sidekick users.
Tips for getting your contacts back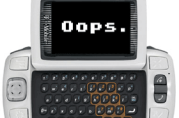 Personal data such as photos may be lost forever, but there are a few steps you can take to help rebuild your contact list. Sidekicks can import contact data that is stored in the vCard format. All you have to do is send vCard contact information to your "@tmail.com" address, and from there you will have the option to import these files into your Sidekick contacts.
You can sometimes find vCards attached to e-mails from professional colleagues, so it may be worth it to search your inbox for messages with vCards attached. Many e-mail clients, like Microsoft Outlook, can export contact data into vCard format, and webmail services like Gmail, Yahoo, and AIM are also vCard friendly. Even if you only have e-mail addresses in the contact lists of these applications or services, it is at least a way to put together a list of names to start rebuilding your address book.
For more information about vCards, and other contact recovery tips check out T-mobile's contact recovery help page.