I'm a big fan of Microsoft's Windows Media Center, which is built into Vista and Windows 7. Last week I told you how to keep Windows Media Center from filling up your hard drive; this week I'll tell you how to use your TV as a DVR, add more storage for all those programs, and even create a music playlist in Windows Media Center.
Add a TV Tuner to Your PC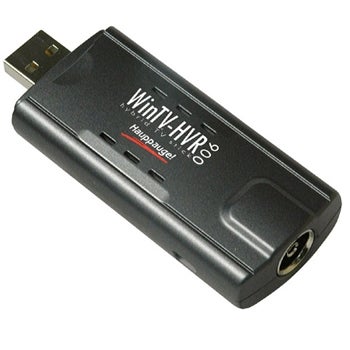 A TV tuner is a simple accessory that lets you watch and record shows right on your PC, much like you'd do with a TiVo. Although a handful of manufacturers make desktop PC tuner cards that install in a PCI slot, the easiest option is a USB TV tuner. ADS Tech, AverMedia, and Hauppauge are among the companies that offer such products, with prices starting at about $25 online.
Be sure to choose a tuner that supports both ATSC and NTSC signals so you can connect an antenna (for over-the-air digital broadcasts) or your cable company's cable. Want both? Just add a second tuner.
As for the software, for my money there's no better solution than Windows Media Center, which comes preloaded with Vista Home Premium, Vista Ultimate, and all versions of Windows 7 except Starter.
WMC makes it snap not only to record, watch, and time-shift shows, TiVo-style, but also to copy shows to DVD and some portable media players. If you have a PC in your den, bedroom, etc., and want to turn it into one seriously good DVR, all you need is an inexpensive tuner.
Add More Storage for TV Recordings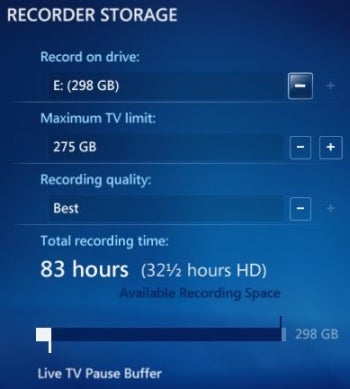 I'm a longtime WMC fan; for years I've had a dedicated PC at the heart of my home-theater setup. But now that I'm recording more shows in high-def, the system routinely runs low on storage–and old shows are getting prematurely deleted as a result. Horrors!
As with any PC that needs more space, there are two basic options. First, I can replace the existing hard drive with something larger. That's a fairly major job, what with copying everything over to the new drive, making the swap, and so on.
Second, I can install a second, larger hard drive that works in tandem with the original. Ideally I'd make this an internal drive, but my component-style case has zero free space inside.
So we come to the path of least resistance: an external, USB hard drive. My only requirements are that it be quick (at least 5,400 rpm) and quiet (I don't need noisy fans competing with the TV).
Fortunately, drives like this are easy to come by, and reasonably priced to boot. After a quick bit of online shopping, I found a 1TB (that's one terabyte) USB drive for just $100. Take a look at our recently updated Top 10 External Hard Drives chart for some great options.
Switching Windows Media Center over to the new drive is literally a plug-and-play affair (in Vista anyway–I'm not sure about earlier versions of WMC). After you've plugged it in and verified that it's available to the system, follow these steps:
Start Windows Media Center, then make sure you're not currently recording anything.
Scroll down to Tasks, then over to Settings and click it (or press Enter).
Choose Recorder, Recorder Storage. (Note that these options appear only if you have a TV tuner installed and configured.)
Click the Plus sign next to "Record on drive" to select your newly added external drive.
Click Save to finish the operation.
That's it! From here on, all shows will get recorded on the new drive. Don't worry: You'll still be able to access and watch your previously recorded shows, even though they're stored on the primary drive.
The only thing you can't do is get WMC to utilize both drives for recording; it's one or the other. Of course, if the new drive starts to get full, you can always switch back to the old one temporarily. Just follow the steps outlined above and choose your C: drive in step 4.
Create a Music Playlist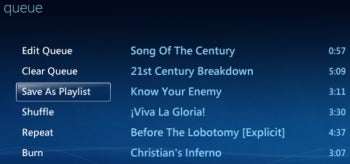 One of my longstanding complaints with Windows Media Center is its lack of support for playlists.
Actually, it supports them just fine–so long as you build them in Windows Media Player. But if you want to actually whip one together from the couch, using your remote, you're out of luck–but not for long. The Windows 7 version of WMC includes a long-overdue playlist builder. You can see it in action in this YouTube video.
Vista users can accomplish roughly the same thing, but it involves a little hoop-jumping. Here's how to create and save a playlist in Windows Media Center:
Navigate to the song, album, artist, or whatever you want, then choose Add to Queue. (This will immediately start playing the select item(s), but don't worry about that.)
Repeat the process for additional songs, albums, artists, and so on. The Queue is destined to become your playlist, so add everything you want.
Return to the Start screen and select Now Playing + Queue. Click View Queue, then Edit Queue. Here's where you can modify the order of your playlist. To move a song up or down in the list, click the up or down arrow next to the song title. (You can also remove a song by clicking the little x.)
Click Done to return to the previous menu.
Select Save As Playlist, give your playlist a name, and then click Save.
Now, when you navigate to Windows Media Center's music library and the Playlists menu, you'll see your newly created list.
Rick Broida writes PC World's Hassle-Free PC blog. Sign up to have Rick's newsletter e-mailed to you each week.