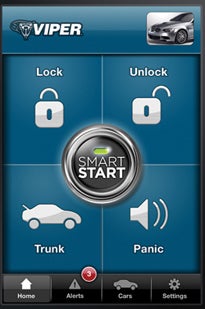 There are boatloads of dumb iPhone apps, but some are so idiotic they boggle the mind. Enter the Viper SmartStart iPhone app, which remotely locks, unlocks, and starts your car. So the next time you're casually mugging an iPhone user, be sure to check if they have this app … cause you might get a free car out of it too!
Viper SmartStart works on any car with electric windows and locks, and does not require an existing remote start feature. Head into Best Buy and for $499 they will install a receiver in your car so you can reach the pinnacle of lazy carelessness. Aside from making your vehicle oh-so vulnerable, it also releases the trunk and has a panic button to find your car in the mall parking lot.
The more I read about Viper SmartStart, the more horrified I became. You can actually control multiple vehicles with this thing. They call it "great for families" — especially for families with rebellious teenagers who dig the visceral thrill of joyriding; or, better yet, families with young children who experiment with Daddy's iPhone and create a hilarious situation involving a 5-year-old behind the wheel!
What's worse is that you can start your car from other states. When demonstrating the app for USA Today, Mike Simmons, executive vice president of Directed Electronics, the parent of the maker, revved his ride in California … from Kansas City. Not only is Viper SmartStart dumb, it's dangerous.
What will they think of next? An app that unlocks your house? Babysits your children? Reveals the intimate details of your stock portfolio with handy-dandy passwords?