AT&T and Nokia will offer the new Booklet 3G wireless netbook for only $299. Is that a good deal? It depends.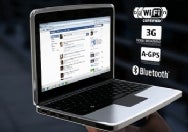 First, the actual price of the Booklet 3G is $599. To get the discount, customers have to sign-up for a $60-a-month data plan. Over the two-year contract, that adds up to over $1,400, plus the computer and taxes.
For less money, you can get a wireless 3G card that can be moved from one computer to another. Or a Novatel Wireless MiFi 2200 mobile hotspot modem that allows several computers to share the same 3G connection.
Both of those are better deals, at least for many people, than a netbook, even a nice one like the Booklet 3G. (Nokia said it expects to sell 20 million of them before the end of 2009).
Besides 3G connectivity, the 2.76 lb. Booklet offers Wi-Fi, GPS, a 120-GB hard-disk drive, 1GB RAM, webcam, and a 16-cell battery that Nokia claims to deliver up to 12 hours of battery life. It uses in Intel Atom 1.6 GHz. processor to run Windows 7 and is made from a single piece of aluminum, much like Apple notebooks. It goes on sale Oct. 22.
At the end of the day, however, this is still a netbook. That means it is likely to feel a tad overwhelmed running more than one application at a time.
There is also the issue of whether customers will use wireless 3G data on a netbook often enough to justify the cost of monthly service. With free or low-cost hotspots abounding and guest networks popping up at businesses and in people's homes, the need for 3G data may not be as large as many users think.
I have been considering a 3G card or mobile hotspot for my own business, based on the occasional need for "right now" Internet access in places away from hotspots. I have yet to justify it, but keep trying to convince myself the need is real–that's $60-a-month real.
When/if I buy, it won't be a netbook with a built-in 3G connection. Too limiting. So no Booklet 3G for me, even if it's tempting.
David Coursey tweets as @techinciter and can be contacted via his Web site.