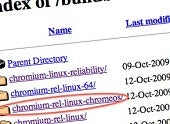 Rumors regarding what form Google's Chrome operating system may take have been popping up thick and fast ever since the Linux-based OS was announced back in July, but now the first legitimate hints as to what the user interface (UI) may look like have surfaced.
During a routine download of the latest build of Chromium, the name given to the open-spurce versions of Google's browser, a TechCrunch blogger spotted an all new Chrome OS folder on the Google servers. The folder, which has now been removed, contained various builds of Google's Chrome browser specifically tailored for their upcoming operating system.
With this knowledge to hand, one avid blogger set to explore what the various builds could tell us, with a number of interesting results.

According to blogger Jonathan Frederickson, the taskbar area (often associated with displaying various information such as the time, battery power, and so on), is integrated with the browsers tab bar. Lifehacker speculated that these UI tweaks could mean that when the Chrome OS finally arrives, the main browser window will also act as the principal window for navigating the OS, and I couldn't agree more.
In addition to the visual changes seen in the tab bar, Frederickson also spotted what can only be described as a new logo. The tiny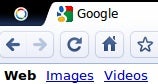 logo lives in the top left hand corner of the new browser, and clicking it takes the user to a Google Short Links page. See more details on what Frederickson found over at his blog.
With Google, admittedly by accident, pushing this new build of the Chrome browser online it's safe to assume that work on the new operating system is going well, and we could be seeing the new OS sooner than expected.
What do you make of this possible 'browser do all' approach Google may be taking? Sound off in the comments.
Follow GeekTech and Chris Brandrick on Twitter.