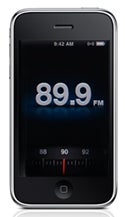 Apple is developing an in-house iPhone and iPod Touch radio application, which will enable users to listen to FM radio on their existing devices, according to sources quoted by 9to5Mac.
The iPhone 3G/3GS and the latest iPod Touch are able to receive FM radio signals, but Apple uses this functionality only to implement the Nike+ feature on these devices.
However, 9to5Mac is reporting that Apple is set to unleash the FM radio capabilities in the latest iPhone and iPod touch devices, with a radio app that will offer similar functionality to the radio tuner found on the newest iPod nano.
The iPhone radio app is said to be able to operate in the background, like the iPod app, but it is yet unclear whether this will be incorporated into the iPod app before release or it will come as a standalone application.
The rumoured iPhone radio app is also said to integrate with the mobile iTunes Store for on-the-fly purchases, as an extension to the song tagging feature found on the latest iPod nano models. Live pause functionality will likely be incorporated as well.
Although Apple has not confirmed these reports, this rumor makes sense, considering the Cupertino company has previously enabled sleeping hardware functionality. As an example, Bluetooth wasn't enabled in the second-gen iPod touch until the 3.0 software update, and the same applies for the iPhone with A2DP stereo Bluetooth.
It's interesting to note that it has been reported that the iPhone 3GS and the latest iPod touch also have dormant FM transmitter capabilities, which could be used to broadcast sound into car stereos. However, enabling such capabilities would make obsolete the bunch of FM transmitter accessories already available in the iPhone ecosystem.