There is an FM radio inside our iPhone and iPod touch devices and we may soon get to use it. That's today's tasty Apple rumor and it makes sense in a "why not?" sort of way.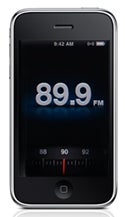 The FM tuner is built into the hardware and already supports the Nike+ peripherals. Adding a tuner application, supposedly now under development at Apple, would reception of FM broadcasts as well.
All this according to our friends at 9to5 Mac, which adds these details:
The new app is supposedly being delayed while Apple adds a song tagging capability to the application, allowing users listening to stations that support tagging to order songs from the iTunes Store while they are still playing on the radio.
It is also presumed the new FM application would enable pausing a broadcast, as is already possible on iPod Nano devices. And it raises the possibility of receiving real-time traffic and other data off the subcarriers of FM broadcast stations.
iPhones and iPod touch devices have had FM-receive capabilities for some time, but the newest models can do something else: Broadcast FM signals, perhaps to a car radio or home stereo system. Also included is an 802.11n capability on the 5GHz. band. Neither feature is currently enabled–or even acknowledged–by Apple.
According to 9to5 Mac:
"This wouldn't be the first time Apple awoke sleeping hardware functionality from its mobile products. Apple sometimes chooses to leave hardware features dormant in their products until they feel the time is right. For instance, Apple did not enable Bluetooth in its 2nd generation iPod touch until 9 months after it was released. Apple also has not enabled the 802.11N +5GHZ wireless networking (which we also hope to see updated shortly) in its latest iPhone and iPods."
My take: FM broadcast reception is something most customers will not use, but will be much appreciated by a handful. The FM broadcast capability would make it easy to hear an iPhone or iPod through a car stereo system, something that today requires a sometimes-expensive aftermarket adapter.
The big win would be the addition of 802.11n wireless, which should improve both speed and range for LAN and hotspot connectivity, where it's supported. Of the bunch, this is the feature I hope Apple releases soon.
David Coursey tweets as @techinciter and can be contacted via his Web site.