Microsoft is sponsoring a Windows 7 television extravaganza next month in collaboration with FOX and "Family Guy" creator/voice actor Seth MacFar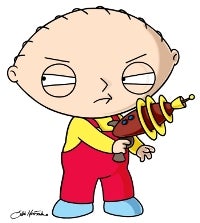 lane. The program's working title is "Family Guy Presents: Seth & Alex's Almost Live Comedy Show," and will weave Windows 7 promotions into the television special.
The show will have no commercial breaks, and is scheduled to air on November 8 at 8:30 p.m. Eastern and Pacific featuring the comedy stylings of Seth MacFarlane and "Family Guy" costar Alex Borstein. The duo will present a collection of original animation segments, live-action performances of Family Guy musical numbers, comedy skits, and celebrity guests.
Microsoft calls the MacFarlane special an attempt to "bring the old Texaco Star Theater-style sponsorships into the 21st century," and says Windows 7 promos will blend "seamlessly with show content." I'm not sure what that means, but maybe we'll see Peter and Lois Griffin hosting a Windows 7 launch party, or Steve Smith (American Dad) showing Stewie Griffin how to burn a CD on the new OS. There's also the worst case scenario: some unfortunate soul logs on to Glenn Quagmire's laptop to use Internet Explorer 8, and ends up pulling an O.M.G.I.G.P.
Microsoft isn't stopping with television shows, either. Redmond is also planning a 12-week college tour with Fox that will give approximately 4.3 million college students the chance to try out Windows 7. The tour will also feature entertainment like outdoor movie nights hosted by "Family Guy's" Stewie and Brian, online videos, and other "Family Guy" content.
This is the second time MacFarlane has teamed up with a technology company. Last year, Macfarlane presented "Seth MacFarlane's Cavalcade of Cartoon Comedy" on the Google Content Network.
If you can't wait for November, here's a taste of Windows 7 magic featuring "Family Guy" characters: