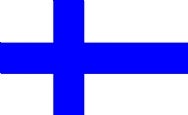 The Finnish government has done what no other nation has; it has made broadband Internet access a guaranteed legal right of its citizens. According to Finnish news site YLE, The Ministry of Transport and Communications says everyone in the country will be entitled to a guaranteed 1 Mbit connection by next July. This is fascinating, but it's really only half the story.
The real news is that the country considers this just a preliminary stepping stone to a 100 Mbit service guarantee by the end of 2015. According to the story, "Some variation will be allowed, if connectivity can be arranged through mobile phone networks."
Granted, Finland's population is more like a very large city than a country as big as the U.S. There are 5.3 million people residing in Finland, mostly in the south. This would place the country about 30th in the ranking of world cities by population, but it still makes it bigger than any U.S. city save New York. Which begs the question – if Finland can do this, why can't more major U.S. cities?
Follow Jason Cross on Twitter or visit his blog.