You can get a deeply discounted netbook from either AT&T or Verizon, as long as you're willing to sign up for a two-year data plan; but no matter which service provider's netbook deal you choose, the price will be about the same. We saw similar price parity when we conducted our cost-of-ownership study of popular smartphones.
We discovered the similarity in bottom-line prices after examining the two-year costs of ownership of various (subsidized) netbooks sold by Verizon and AT&T (Sprint and T-Mobile don't yet offer such deals). The wireless broadband carriers began selling netbooks only this year, and they have adopted a pricing model similar to the one they use for selling cell phones and smartphones.
What's on Sale?
Verizon offers either of two netbooks–the Gateway LT2016u or the HP Mini 1151NR (currently out of stock)–for $150. If you were to buy them elsewhere and without the data plan, the Gateway would cost around $300 and the HP would run about $400.
AT&T sells the Acer Aspire One, the Dell Mini 10, and the Lenovo IdeaPad S10 for $200 each. If you buy any of these netbooks elsewhere (sans data plan) you will pay about $300 for the Acer, $349 for the Dell, or $330 for the Lenovo.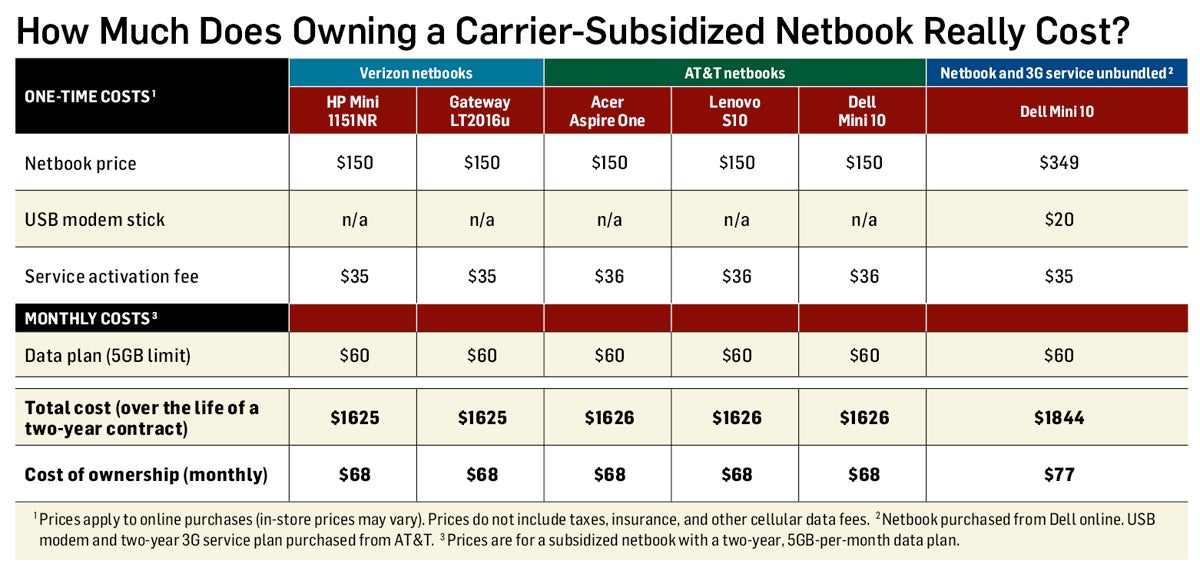 Click on the thumbnail image to the left to view our chart containing a detailed comparison of the total cost of ownership for the five netbooks now being sold by U.S. wireless broadband service providers.
Not Unlimited Data
Unlike smartphone data plans, which typically promise to provide unlimited data for $30 per month, data-only 3G service for netbooks gives you much less for a lot more. Both AT&T and Verizon offer two tiers of data-only service: for $40 per month, you get 250MB (from Verizon) or 200MB (from AT&T) of data per month; for $60 per month, you get 5GB of data per month.
Exceed your monthly bandwidth cap, and you'll pay extra: Verizon charges 10 cents per additional 1MB on the lower tier and 5 cents per additional 1MB on the higher tier; AT&T charges $10 per additional 100MB on the lower tier and a whopping 50 cents per additional 1MB on the higher tier.
The Cost of Speed
You pay for speed, too. Verizon's EvDO Mobile Broadband network advertises download speeds of 0.6 to 1.4 megabits per second (mbps), and upload speeds of 0.5 to 0.8 mbps. AT&T's DataConnect plans advertise slightly higher speeds: downloads at 0.7 to 1.7 mbps, and uploads at 0.5 to 1.2 mbps. Of course, customers' actual results vary–check out our own 3G tests and compare for yourself.
The Specs
All of the netbooks mentioned here have approximately the same specs: a 1.6GHz Intel Atom processor, a 10-inch display, 1GB of memory, a 160GB hard drive, and Windows XP. This generation of netbooks already feels sluggish when put to work on any but the most barebones task; when netbooks equipped with multiple processors or Ion chipsets arrive, we may find the temptation to buy one a lot stronger.
The Bottom Line
Verizon's and AT&T's subsidized netbook deals have almost identical total costs. If you settled for the lower data cap (and avoided exceeding it), you'd spend around $1100 over the 24 months of your service contract, whether you went with Verizon or with AT&T. But a monthly data allotment of 250MB is barely enough to keep most people on top of their e-mail, so most users would be better served by the higher data cap, in which case they'd be spending about $1625 over two years with either wireless company (again assuming that they never exceeded the data maximum in any month). So if AT&T and Verizon 3G provide coverage of roughly equal quality in your area (a big assumption, obviously), AT&T gets the nod for offering slightly better netbooks. On the other hand, if you exceed your monthly allotment, AT&T will charge you significantly more for above-the-cap data service.
Consider the Alternative, or Not
If you'd rather not buy your netbook from a phone company, you can buy it at an unsubsidized price elsewhere. For instance, you can buy a Dell Mini 10 directly from Dell online for $349 (AT&T sells the same model for $150, with two-year service contract). But you still have to buy 3G service from some wireless carrier, and it's cheaper to sign up for a two-year stretch–especially when you consider the cost of the USB modem you'll have to buy to connect your netbook to the 3G goodness.
If you're hell-bent on avoiding a long-term contract, you can either purchase a netbook at its "no-commitment price" ($600 from Verizon, $450 from AT&T) or buy your own netbook elsewhere and buy a USB modem from Verizon (prices range from $50 to $200) or AT&T ($120). Depending on how much you spend on the netbook, this option would put you over the $2000 mark for two years of ownership.
Clearly, buying through a wireless carrier is no way to save money on a netbook. But the experience of using a netbook mainly involves the stuff it can access by connecting to the Web via fast wireless Internet service; the netbook itself is really just a lightweight endpoint. If you think about it that way, the sticker shock you get from the two-year price of a subsidized netbooks might not be so shocking.