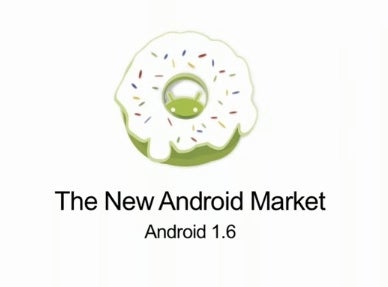 In the past few days many of T-Mobile's myTouch 3G and G1 handset customers were sent a serving of Donut, the newest version of Google's Android operating system for mobile phones. While a glance at the home screen of Android 1.6 doesn't reflect much of a difference over version 1.5, a look under the hood reveals a wealth of sweet surprises.
In addition to a raft of minor fixes, Donut offers a new speech-synthesis tool, new GPS-enabled features, an enhanced search routine, a rebuilt Android Market and many other adjustments. The 57MB update that arrived on a myTouch 3G took just a few minutes to download with a fast data connection and just a few minutes to install, including a restart of the phone.
Android's location-based features have been enhanced and the GPS settings now include a "Share with Google" option which lets you enable location-based enhancements with Google searches, maps and other applications. Touching and holding your finger on a location in Google Maps, for example, enables Street View, which provides an interactive ground-level image of the location.
As you enter a search phrase into the Google search window on the home screen, location-based suggestions appear even before you hit the search button. For example, while entering the word "staples" a listing for a nearby Staples office-supply store across the street appeared. From there I could have mapped the location, asked for more details or added it to my contacts.
The home screen search function has also been expanded to look into more places. Within the settings menus, you can control whether Google searches your browser's bookmarks and search history, your contacts, the installed apps and your music collection.
Google Maps on Android 1.6 also offers mass-transit directions for many major cities. For example, if you're standing at Madison Square Garden at 8th Ave. and W. 33rd St. in Manhattan and need to get to the Empire State Building on W. 34th St. and 5th Ave., Google Maps will not only tell you that you can use the M34 bus for the trip, but will also list the scheduled times of the next few buses. It also worked when tested with a late-night bus trip from downtown Milwaukee to Miller Field, home of the Milwaukee Brewers, even going as far to note that there was a detour in effect at the time.
If you've enabled GPS, the Android Web browser shows you your location at the main page and can use this data to return local results when performing a Google search. For example, searching for "library" resulted in a listing of the closest libraries to my location in addition to the other results that would normally be generated in a search for that word.
Android apps can now talk back thanks to a new Pico speech-synthesis engine. You'll need to install the Speech Synthesis Data Installer, a free download from Android Market which includes support for English, French, German, Italian and Spanish. Once installed, speech-enabled apps will be able to talk back in choice of accents.
Android Market itself has been revamped with a brighter look and now lacks the sometimes hard-to-maneuver scrolling icons on the top. Instead using the icons, featured Android applications now appear in a list as you start Android Market. From there you can browse or search for what you need. While most Android applications will work with the Donut revision, some software publishers have already pushed out Donut-compatible updates for their applications.
The camera and video camera applications have been merged into a single screen with a toggle switch at the bottom even though separate icons for each utility remain on the home screen. The camera's shutter button has been relocated from the upper right corner of the screen (landscape mode) to a more comfortable position at the lower right.
New to Android is CDMA support, a necessary addition to allow Verizon Wireless to offer Android-based phones, as well as support for four types of VPN connections. Also, a new battery-use screen lists which apps and hardware components are using what percentage of your phone's power.
The update doesn't seem to have an effect on the phone's response time. Android's developers claim that the camera application launches 39% faster and responds 28% faster in completing consecutive shots.
On balance the update seems clean and stable, but app users should keep their eyes open for necessary updates.