Acer has disclosed more details about its upcoming Android-based Liquid smartphone, a thin device with a 3.5-inch touchscreen.

Liquid uses version 1.6 of Google's Android mobile operating system and is one of a number of new Android smartphones announced in recent months. The company talked up the phone at a London press conference on Wednesday but did not provide specifications at the time.
(See related: Review: RIM's BlackBerry Storm 2 Finally Arrives! and Motorola's Android CLIQ is a Social Butterfly's Dream)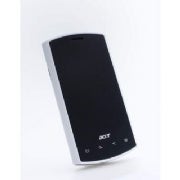 Liquid is 115-millimeters long, 62.5mm wide and 12.5mm thick, according to a spec sheet provided by Acer. The Qualcomm 8250 Snapdragon chipset on board carries a 768MHz processing core.
The new smartphone, which is due to go on sale worldwide in the fourth quarter, also has a 5-megapixel autofocus digital camera onboard with video recording capability. It has only 512MB of storage so users will have to buy MicroSD cards to increase the storage space for video, photos, music and other large files. Liquid has a MicroSD slot that supports cards with up to 32GB of storage, a MiniUSB slot, and a 3.5mm audio jack.
The onboard camera will also tag photos with location information from the built-in GPS receiver, so people know where and when they snapped a shot.
The smartphone offers a range of wireless signals, including GSM, EDGE and Radio HSUPA/HSDPA (High Speed uplink/downlink Packet Access) in addition to 802.11b/g WiFi for Internet browsing and Bluetooth for wireless connections to other devices.
Liquid comes loaded with Google software and services, including Google's Talk instant messenger, the Chrome browser, Google Cloud Sync, and connections to Gmail and Google Maps.
The Office productivity suite in the smartphone is Documents To Go from DataViz.
Songs and videos can be played on the handheld. Liquid is designed for Internet browsing, and allows high speed Web access either through HSPA on mobile networks or Wi-Fi.
Acer lists the talk time on a battery charge at up to 5 hours, while standby time is up to 400 hours.