While Microsoft is recovering Sidekick users' lost data, many are wishing Redmond could also give them back their time. What about the days people spent recreating their T-Mobile contact list and calendar?
They are gone for good.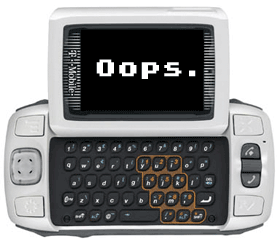 For their time, angst, and considerable inconvenience, Sidekick customers will be compensated with a mere $100 T-Mobile gift card and a month of free data service. More recompense may come from two lawsuits filed on Wednesday over the data loss. But, it is usually the lawyers who benefit most handsomely in such litigation.
There are many things we still don't know, such as exactly when the data loss occurred, how many customers were afflicted, and what caused it, Customers deserve facts that demonstrate–not mere assurances–such a loss won't happen again.
Microsoft and T-Mobile doubtless consider this information "proprietary," but customers should treat their confidence the same way. No answers? No trust.
That lack of trust now extends beyond this incident and has cast a pall, at least temporarily, over cloud computing, an emerging technology where online data storage plays a large role. Purists argue this incident isn't really cloud computing, but for customers it is plenty close enough.
Why did it take Microsoft this long to figure out that the data wasn't really gone? Why did it take a week to acknowledge the loss in the first place? Why couldn't they provide at least a close guess as to the number of customers involved?
You'd think that before announcing that the data was gone and unlikely to be recovered that Microsoft had completed a thorough search. While there is happiness that the data has been found, being unable to find it previously ranks right up there with losing the data in the first place.
In a letter posted on the T-Mobile customer forum, Microsoft's Roz Ho, who runs the company's laughably named "Premium Mobile Experiences" group, said only that a "minority" of Sidekick users suffered data loss. With a supposed 1 million Sidekick customers, a "minority" sounds small but could be up to 499,999 of them.
"We have determined that the outage was caused by a system failure that created data loss in the core database and the back-up," Ho wrote.
"We rebuilt the system component by component, recovering data along the way. This careful process has taken a significant amount of time, but was necessary to preserve the integrity of the data."
Those two paragraphs could be replaced by a single sentence: "We weren't very smart, and we were very slow."
We should hope, but not expect, for Microsoft to comment on persistent speculation that some disgruntled ex-Danger worker was responsible for the data failure.
Microsoft bought the Sidekick's maker, a company with the especially apt name "Danger" in early 2008, folding it into Ho's "Premium Mobile Experiences" organization.
Staff reductions followed and some customers have speculated that such a huge data failure could only result from sabotage. They wonder: "How difficult would it have been for some employee who felt shafted by Microsoft's takeover to leave a little time bomb behind?"
After all, how does a company like Microsoft lose the original and all backups of such important customer data without some "help"? Microsoft needs to offer a better explanation of how that occurred.
T-Mobile, which didn't have the best reputation in the first place, has suffered greatly from this incident, sure to become the subject of persistent jokes. Sure, it was Microsoft's fault, but T-Mobile responded to it with a notable lack of finesse.
It is too early to understand the full ramifications of this sad incident, but what we understand so far doesn't look good. Microsoft and T-Mobile need to provide more information if we are to assess their future credibility and guardians of customer information.
David Coursey tweets as @techinciter and can be contacted via his Web page.