The reviews are in for the much-anticipated Blackberry Storm 2 and Motorola's Android debut the Cliq. Finally, questions hanging over these devices have been answered. I know you're all eagerly waiting to find out whether the new Storm can wipe out the stain of its predecessor's virtually unanimous thumbs down, or will Blackberry Storm fanboys be called to defend the honor of their beloved PDA once more? What about the beleaguered Motorola, which was once the cell phone trailblazer? Will Android be its savior?
(See the full reviews: BlackBerry Storm 2 & Motorola Cliq )
Blackberry Storm 2 Thunders onto Verizon's Network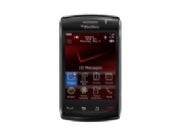 I don't think it would be an understatement to say the Blackberry Storm 2 is to Windows 7 what the original Storm was to Vista. As PC World's Ginny Mies stated right up front in her Storm 2 review, "This is the Storm that I wish RIM had released last year." The handset's aesthetics, the on-screen keyboard and the software are just better, according to Mies. The downside is that Research In Motion chose to stay with its SurePress technology. SurePress is supposed to give you that tactile feel you get from pressing real keys and buttons, while still using a touchscreen. This time around the Storm 2 has a few more sensors to help make typing and clicking more accurate, but Mies says it still falls short.
On the upside, Mies applauds the Storm 2's Wi-Fi connectivity (which the original storm inexplicably didn't have); the device's predictive text entry is great; and the inertial scrolling feature that allows you to quickly flick through your contact or media lists is much improved. Add to that a brighter and sharper display, a nice 3.2-megapixel camera, as well as very good call quality from Verizon, and you have a handset that is a vast improvement over its predecessor.
Around the Web, other reviewers are also impressed with the latest Blackberry Storm. The Wall Street Journal's Walt Mossberg has his doubts about the improved SurePress technology, and he also thinks RIM should optimize the Blackberry interface for a touchscreen device. CNET agrees the Storm 2 is a big improvement over the original Storm, but found the GPS to be subpar.
Motorola Cliqs with your Clique on T-Mobile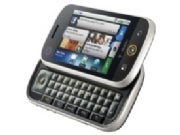 Motorola's Android-based entry, the Cliq, is all about social networks with integration for Facebook, MySpace and Twitter. Mies liked its sleek design and innovative MotoBlur overlay. On the downside, the Cliq isn't running the latest Android build (yet), and the camera was subpar compared to similar devices. Mies also said the MotoBlur interface was a little overwhelming at first noting that, "Text, talk bubbles, and images fly out at you in every direction."
The biggest draw for the Cliq is its ability to keep you up to date with notifications from all your social networks. You can also let the phone build your address book for you using information from your social networks. Thanks to the MotoBlur interface, the Cliq creates listings for all your social networking friends, and is able to condense multiple social networking profiles into one listing–a handy solution if you're connected to the same person over multiple networks. The MotoBlur's contacts app displays items like a person's birthdate, current status update, profile picture, e-mail address, phone number and so on. When Mies described this, I thought it sounded similar to desktop-based products like the Outlook plug-in Xobni, and the possibly soon-to-be defunct Xoopit add-on for Gmail.
The New York Times noted the Cliq is not for everyone due to its ever-changing and potentially confusing MotoBlur interface. The Cliq–says the Times–is really built for people "whose lives are now set to the pulsing beat of updates coming from Facebook and Twitter and their texting buddies." Gadget blog Gizmodo loves the Cliq's customizable interface, but Engadget isn't that impressed. In fact, the blog is already looking forward to the Cliq's successor. "You might say the CLIQ is the DynaTAC [Motorola's groundbreaking handset from 1983]. We're holding out for the MicroTAC and StarTAC," says Engadget. Although, some are pretty bullish about the Cliq's prospects, " Motorola's CLIQ is a game-changing device for T-Mobile," says ZDNet.
So there you have it, a slightly mixed bag for both handsets, with questions still hanging about the Storm 2's funky SurePress technology and the Cliq's active yet attractive MotoBlur overlay.
If the Cliq or Storm 2 doesn't match your style, remember there's a glut of new handsets headed your way this fall featuring more Android goodies and a whole lot of Windows Mobile 6.5.