The third quarter sales figures brought great news for the PC industry– sales are up! Following declines in the first and second quarters, global sales of PC's are up 2 percent for the third quarter, seemingly signaling a light at the end of the recession and IT spending glut tunnel. However, the news isn't all good.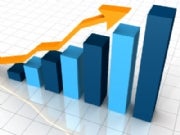 See, here's the thing about statistics and numbers: they say what you want them to say. Good news can be extracted by focusing on the total number of actual devices that were bought and sold during the quarter. However, that statistic does not tell the whole story.
Sales volume can be up, while revenue and profit are still down significantly. If General Motors announced tomorrow that it was going to sell fully-loaded Cadillac Escalades for $10,000 the sales volume would skyrocket. General Motors probably wouldn't be able to keep up with demand. Sounds like excellent news until you consider that General Motors' overall revenue would probably be down and profit would be wiped out.
That hypothetical scenario is similar to the impact the netbook is having on the PC market. Most netbooks are significantly cheaper than desktop and notebook computers and demand has grown as the economy has imploded. With the entire world in recession, there is a reason that the netbook is outpacing the Macbook among college students.
As evidence of the impact of the netbook on the quarterly sales figure, the good news was accompanied with the announcement that Acer has surpassed Dell to leapfrog into the #2 slot for PC market share. Acer is virtually the poster child for netbooks while Dell has done very little to promote the low-end devices.
Michael Dell, CEO of Dell, has said as much. In a recent conference call he said "If we wanted [market share], we'd go and sell a whole bunch of netbooks." He also reiterated that he, and his company, are more interested in revenue and profit than in market share bragging rights.
It is possible to win the battle and lose the war. Dell has strong sales relationships with business customers– much stronger than Acer. While Acer sales volume has benefited from low-cost netbooks, Dell's sales volume has declined as enterprise customers have held off on hardware refresh cycles. With the recession on the mend and Windows 7 hitting the streets that trend should reverse and Dell could have a very strong 2010 with both sales volume and profit increasing.
Don't get me wrong, I think it is good news that sales volume is up. Even low-end netbooks generate revenue and open up additional opportunities for products and services by third-party vendors. It is a good sign that the economy is heading in the right direction.
I just think that cherry-picking the 2 percent increase in sales volume statistic is misleading, and that Acer's ascent to the #2 slot for PC market share is a hollow victory when coupled with other data like revenue and profit. I think Dell is right to focus on long-term strategy and profit rather than get distracted by market share bragging rights.
Tony Bradley is an information security and unified communications expert with more than a decade of enterprise IT experience. He tweets as @PCSecurityNews and provides tips, advice and reviews on information security and unified communications technologies on his site at tonybradley.com.