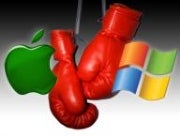 Next week Microsoft was supposed to be in the spotlight with the launch of Windows 7, but the way it's shaping up Apple could steal the limelight. With Microsoft's Windows 7 launch only days a way, sales of Apple Macs are by far outshining those of Windows PCs, according to two leading analyst firms.
In spite of a bleak economy, overall PC sales in the United States are actually finally starting to bounce back a bit, stepping up 2.5 percent from September of 2008 to last month, according to numbers released by the Gartner Group. IDC came up with a slightly higher number of 3.9 percent.
But sales of Apple Macs are up higher, to the tune of 6.8 percent, according to Gartner. IDC paints a rosier picture reporting Apple sales up 11.8 percent.
Is the Mac's purported stronger security helping to spur sales? Did the celebration of the Mac's 25th birthday back in January have anything to do with this? Are Mac loyalists simply more affluent or recession-resistant than other PC users? Even the analysts are baffled as to why.
But apparently, Apple plans to take full advantage of its resurgent status with a marketing campaign set to coincide with the official release of Winows 7. According to Apple Insider, the upcoming blitz will harp on the upgrade process from Windows XP to 7, while also portraying Macs as less prone to viruses.
It wouldn't come as a surprise to anyone if Microsoft anticipated Apple's attack. After all, back at the end of September, Microsoft gave a green light to small PC makers to start selling Windows 7 PCs on October 13. Hey, that was two days ago.