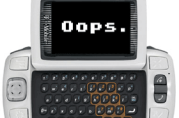 Although Microsoft has now promised that all Sidekick users will be getting their contact info and other personal data back again, the furor felt over the past few days could show lasting impact.
After initially appearing unsure, Microsoft told Sidekick users today that it has recovered all of data lost when its Sidekick database and back-up systems crashed last Saturday.
In an open letter to customers, Microsoft Corporate Vice President Roz Ho said that she believes only a minority of Sidekick users are still impacted.
This afternoon on Twitter — a site that is itself no stranger to recent system outages — some Sidekick users confirmed that data is coming back. Largely, they seemed to be taking their temporary lumps in stride, sometimes with a dose of humor.
"omg…Yes!!…my sidekick Web is back workin…," Twittered a user named thefreshestkid.
"Good news: my 11 year old niece just got her lost Sidekick data back. Bad news: Roman Polanski's name is in her contacts list," wrote brandonweir.
The mood was starkly different over the weekend and on Tuesday on the T-Mobile Forums, where livid users said they'd ditch their Sidekicks and join class action lawsuits.
By this afternoon, T-Mobile seemed to have moved — or maybe even removed — some of the earlier anguished outcries from Sidekick users. In fact, in a search of the forums under the keyword "Sidekick," most, if not all, of the postings that turned up seemed to date from before the outage.
Meanwhile, over on Twitter, other users pointed today to Sidekick lawsuits now under way in California and Washington. According to Engadget, the California case was filed by a mom whose teenage daughter bemoaned the loss of her "photos and song lyrics."
While the Sidekick fray might be diminishing, T-Mobile employees seem to be trying to stay out it, anyhow. "We really can't comment about that at the store level," responded one astute staffer at a T-Mobile store in New York City, when contacted by phone at about 4:30 p.m. East Coast time today.