It seems every hard-drive manufacturer wants in on the USB 3.0 race. Digital product manufacturer Dane-Elec have announced a new line of external hard-drives that support the new faster USB 3.0 standard, claiming they will be the first company to release a product of its type here in the US.
Freecom announced its USB 3.0 efforts last month, with Buffalo showing their hand soon after. However, it was Active Media who was the first to reveal a USB 3.0 capable solid-state drive. Although, they failed to detail when their new Aviator 312 range would be available, vaguely claiming their new drives will become available some time this year. Dane-Elec have now jumped in, proudly asserting that they will be first to market a USB 3.0 range of external hard-drives here in the US. Buffalo's HD-HU3 line-up is to be the first USB 3.0 hard-drives to arrive in Japan.
The new range, dubbed So SuperSpeed,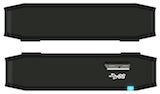 includes a variety of HDD and solid-state (SSD) drives. The HDD drives come in a range of sizes, starting at $149.99 for a 500GB model, with 750GB, 1TB, 1.5TB and 2TB models also available. The pricier Intel-based SSD drives on offer include 80GB ($399.99) and 160GB ($799.99) variants, both of which can achieve transfer speeds of up to 250MB per second.
You can expect to see the So SuperSpeed range on sale, alongside a number of USB 3.0 compatible adapters, from the 11th of December.
Follow GeekTech and Chris Brandrick on Twitter.