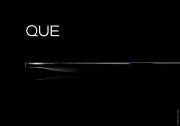 Plastic Logic appears ready to deliver on its promise to ship its anticipated Que e-reader the firm announced nearly one year ago. A shipping model of the Que, Plastic Logic says, will be shown off on January 7 at the Consumer Electronics Show in Las Vegas. The company says the Que is the first "proReader" designed with business professionals in mind, but it's going up to have some stiff competition against a full roster of e-readers including what may be the first Google Android-based e-reader.
Que Has No Surprises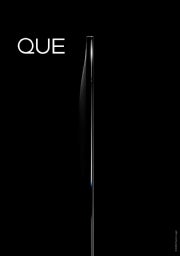 While it will be interesting to see the finished model, it's not like we don't know what the Que is all about. Plastic Logic first showed off its gadget in September 2008 at DEMO in San Diego, then the company took its device to CES in January and to top it all off the e-reader made another demo at D7 last May.
After three different debuts, we know the Que will be the size of an 8.5-by-11-inch piece of paper, and has a touchscreen interface with iPhone-like swipe gestures instead of button controls. The device has Wi-Fi and 3G connectivity, and is less than one-third-of-an-inch thick. The Que's plastic makes the device supposedly shatter proof (I feel a PC World stress test coming on), and it uses plastic instead of silicon transistors, making the device super thin. We also know the Que supports PDF and Microsoft Word, PowerPoint and Excel formats, in addition to e-book content. Finally, we know the device has 3G connectivity to be supported by AT&T, and Barnes & Noble will power the Que's e-book store.
In short, we know almost everything. What we don't know is how much it will cost, when it will be available and what the exact specs are for memory, storage, Wi-Fi standard (b,g or n) and so on. It's a pretty safe bet the Que will be expensive since Plastic Logic CEO Richard Archuleta has always stressed the Que is focused on the business consumer, and that the market will set the price.
E-Reader Glut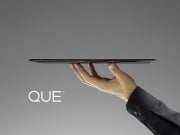 In addition to Plastic Logic, the e-reader market is getting crowded with many other devices like Barnes & Noble's upcoming e-reader, as well as current competitors like the Kindle DX, Sony's Reader and the Asus dual-pane netbook/e-reader. And let's not forget the possibility of the oft-rumored Apple tablet, and maybe even the CrunchPad.
First Android E-Reader
As if that wasn't enough e-reader action for you, we may soon see the first Android-powered e-reader in the coming months. A company named Spring Design based in Fremont, California has just announced a device called Alex. The device has a dual-screen display, with one 6-inch E-ink grayscale screen, with a 3.5-inch color LCD touchscreen underneath. The two screens work together through Alex's Duet Navigator technology. Anytime you click on a hyperlink on the main e-reader screen, the Web content shows up in the smaller LCD screen. Alex also has Wi-Fi and 3G connectivity, an SD card slot for expanded storage, and full Web browsing capabilities.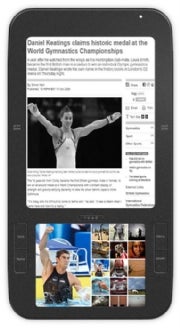 The only problem is, according to the press release, Spring Design has no firm plans for bringing the device to market. In other words, the device is a prototype with no pricing, no detailed specs and no release date.
However, I should note that Barnes & Noble's upcoming e-reader, which may be announced this week, sounds a lot like the Alex. Spring Design also says it has been in talks with "major bookstores" among other partners to bring content to the device. So, who knows? Maybe Alex is Barnes & Noble's e-reader — but that's a big maybe. To be honest, I'm pretty skeptical about the Alex since I don't know much about Spring Design. But if it's the real deal, this e-reader could be an interesting addition to an already growing market.