By the time lost Sidekick data reappears, will anybody care? Of course, but the longer it takes Microsoft to restore data lost Oct. 5 in a massive server crash, the less the data is worth.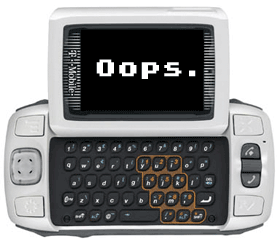 Or, at least the more customers will have invested, mostly in terms of their own time, in recreating address books and calendars. Some items will never be recreated, including photographs stored on the not-so-smartphone, so recovering the lost information is still helpful.
Last Monday, Microsoft and Danger told customers all their data was almost certainly lost for good. On Thursday, Microsoft took a more upbeat note, promising most data would be restored.
On Sunday, Microsoft apologized for the delay and saying only that data restoration would begin "this week." They hope.
"The Danger/Microsoft team is continuing to work around the clock on the data restoration process," Microsoft said in a press release. "We apologize that this is taking so long, but we want to make sure we are doing everything possible to maintain the integrity of your data.
"We continue to make steady progress, and we hope to be able to begin restoring personal contacts for affected users this week, with the remainder of the content (photographs, notes, to-do-lists, marketplace data, and high scores) shortly thereafter. "
T-Mobile continues offering a $100 gift card and a month of free data service to afflicted Sidekick customers. Lawsuits have already been filed on behalf of angry owners. And our month of living Danger-ously continues…
David Coursey tweets as @techinciter and can be contacted via his Web site.