A group of top Internet execs, including the CEOs of Google, Amazon, Twitter, Facebook, and eBay have sent a letter to FCC Chairman Julius Genachowski in support of net neutrality.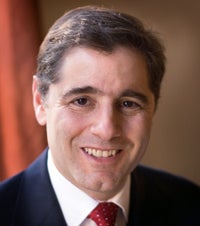 "America's leadership in the technology space has been due, in large part, to the open Internet," said the letter, dated Monday.
"We applaud your leadership in initiating a process to develop rules to ensure that the qualities that have made the Internet so successful are protected."
The letter is seen as a response to a wave of letters sent last week in opposition to the proposal, which would prohibit carriers from discriminating against or charging more for certain types of Internet traffic.
The letters, from members of congress, telecom firms, governors, and other opponents are part of a battle that is largely drawn on party lines. AT&T and Comcast are opponents, with other carriers less negative.
The FCC is due to release its proposed net neutrality rules on Thursday.
"For most of the Internet's history, FCC rules have ensured that consumers have been able to choose the content and services they want over their Internet connections," the letter continues.
"Entrepreneurs, technologists, and venture capitalists have previously been able to develop new online products and services with the guarantee of neutral, nondiscriminatory access by users, which has fueled an unprecedented era of economic growth and creativity.
"Existing businesses have been able to leverage the power of the Internet to develop innovative product lines, reach new consumers, and create new ways of doing business."
Others signing the letter include executives from Digg, LinkedIn, Skype, YouTube, Mozilla, Flickr, Sony, and Craigslist
Opponents claim controls are necessary to insure quality of service and availability. Proponents counter that carriers are simply seeking to protect their own services by using their control of customers' Internet to discriminate against competitors.
Since 2005, the FCC has followed a set of net neutrality "principles." Genachowski last month announced a plan to turn those principles, with changes, into into actual rules. A vote to issue a Notice of Proposed Rulemaking, the first step in the FCC's process, is expected at the Commission's Thursday meeting.
My take: I am in favor of the FCC's net neutrality efforts, which I believe will be good for consumers and the economy. However, I understand the fears of incumbent carriers, who are being reduced to the status of mere Internet plumbing providers, which is long overdue.
Now, if we can only do that for wireless telephony and cable television.
David Coursey tweets as @techinciter and can be contacted via his Web site.