Apple on Monday posted an increase in net profit and sales for the fourth quarter of 2009 despite a year
-over-year decline in iPod shipments.
The company reported a quarterly profit of US$1.67 billion, or $1.82 per diluted share, for the quarter that ended Sept. 26, an improvement from the net profit of $1.14 billion for the fourth quarter of 2008. The earnings per share beat expectations of $1.42 based on estimates polled by analysts at Thomson Reuters.
Apple also posted revenue of $9.87 billion for the quarter, compared to revenue of $7.9 billion reported last year. Analysts expected $9.2 billion in revenue for the quarter.
Macs, iPhones Up
Apple sold 10.2 million iPods during the quarter, an 8 percent unit decline from a year ago. However, the comp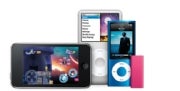 any recorded a year-over-year increase in Mac computer and iPhone shipments during the quarter. Apple shipped 3.05 million Macintosh computers during the quarter, a 17 percent unit year-over-year increase. The company sold 7.4 million iPhones for 7 percent year-over-year unit growth.
"We are thrilled to have sold more Macs and iPhones than in any previous quarter," said Apple CEO Steve Jobs in a statement. "We've got a very strong lineup for the holiday season and some really great new products in the pipeline for 2010."
Mac laptop shipments grew by about 35 percent year over year, though desktop shipments declined by 16 percent, said Peter Oppenheimer, Apple's chief financial officer, during an earnings call. Laptops accounted for close to 74 percent of Mac shipments.
Desktop revenue during the quarter totaled $1.09 billion, a year-over-year drop of around 20 percent. Laptop revenue grew 27 percent to $2.87 billion, Apple said.
The growth in Mac shipments was aided by a strong back-to-school season and the release of Apple's new OS, Mac OS X 10.6, code-named Snow Leopard, Tim Cook, Apple's chief operating officer, said in the conference call.
Mac shipments were stronger in Europe than in the U.S., with a 25 percent year-over-year increase in shipments, Cook said. Shipments in Spain and Germany climbed by about 40 percent, while Switzerland and Italy saw increases in the mid-30 percent range. In contrast, Mac shipments in the U.S. grew just 12 percent.
There was also solid demand for Snow Leopard, according to Apple. The box upgrade rates were double those of the previous OS, code-named Leopard, over a five-week period, Cook said. Following the initial rush, Apple expects "fewer box sales" of the OS in the current quarter, Cook said.
iPhone Sets Sales Record
Apple also set new highs in iPhone shipments, helped by the addition of new countries. The company is looking to expan
d even farther by launching the iPhone in China by the end of this month through 1,000 points of sale. Apple will offer the iPhone through China Unicom, with plans ranging from $18 to $85 per month, Cook said. The iPhone could be offered free with certain types of plans, he said.
Apple sells the iPhone 3GS in 64 countries today and will increase that to 80 countries by the end of the year. It will also start offering the phone though multiple carriers in countries including the United Kingdom.
Apple shipped 21 million iPhones during the entire fiscal year, Cook said. Interest grew among businesses, boosted by growing support for enterprise applications. More than half of the Fortune 100 companies are testing the iPhone for possible deployment, Cook said.
Despite a drop in iPod shipments during the quarter, sales are likely to pick up during the holiday season. Apple launched an iPod nano in June with a video camera and FM radio. iPod revenue during the fourth quarter declined by 6 percent to $1.56 billion, Apple said.
Apple projected revenue for the first quarter of 2010 to be in the range of $11.3 billion to $11.6 billion, a little below the analyst forecast, and earnings per share to be $1.70 to $1.78.