It's been almost a year since I last rounded up my favorite free software picks–since January, in fact. That's unforgivable, but I apologize anyway. I'll try to make it up to you this week, though, with three apps that I've discovered I can't live without: MouseExtender, Fences, and Ecofont, an ink-saving font.
MouseExtender Adds a Launcher to Your Cursor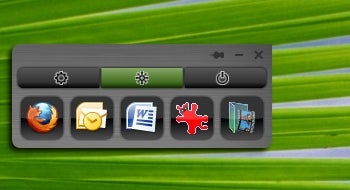 Everyone has their favorite method of launching apps and opening folders. For example, I used to be a diehard fan of Launchy, a keyboard-based launcher. Then, when I moved from Windows XP to Vista, I ditched Launchy in favor of the latter's similar Start-menu launcher.
Now I might just have to switch again. MouseExtender is one of the coolest, handiest launchers I've seen yet.
Once you've installed the program, a click of your mouse's middle button opens the MouseExtender window wherever your cursor happens to be. Then just click the program icon or folder you want.
Adding programs to the launcher couldn't be simpler: Right-click in the window and choose Add Running Program. (Or choose File or Folder to add those kinds of items.)
ME also provides three system buttons: Control Panel, Restart, and Shutdown. Very handy.
By the way, if you need your middle mouse button elsewhere, you can "exclude" MouseExtender from specific programs–meaning the middle button goes back to its regular function when those programs are active.
All told, I'm loving this little launcher, especially because it's free. Once you get accustomed to middle-clicking your way to your favorite programs and folders, you'll wonder how you got along without MouseExtender.
Organize Your Desktop Icons With Fences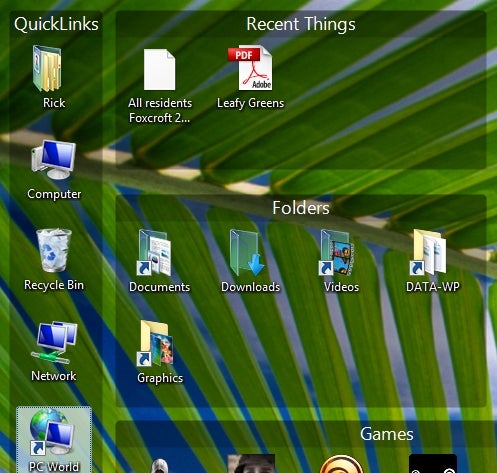 Tired of icon clutter? Sure, you can organize your desktop shortcuts, programs, folders, and the like by dragging and dropping, but eventually some game or other screen resolution-changing app will undo all your hard work.
Enter Fences, a free app from Stardock that's so clever, so simple, and so useful, you'll wonder why it's not built right into Windows.
The program simply divides your icons into organized groups, each of which is represented by a translucent window. You can assign a name to each group, arrange groups to your liking, change a group's size (just like resizing any window), and so on.
Indeed, if you recall how you used to organize icons back in the Windows 3.1 days, Fences will seem familiar indeed.
Of course, this is a much prettier and more effective solution. A quick double-click of the desktop is all it takes to hide or show all your groups. To create a new fence, you simple right-click and drag, then provide a name.
I could tell you more, but it's better to see Fences in action, which you can do over at Business Hacks.
It wasn't five minutes after installing this program that I realized I'll be using it for the rest of my computing life. It's that good.
Save Printer Ink by Choosing an Ink-Saving Font

I've written before about ways you can save money on pricey printer consumables.
For example, you can configure your printer driver to print two pages on one piece of paper. You can turn on "draft" mode for lighter output and less ink consumpton. And, my favorite: bypass printing altogether and generate PDFs.
Now there's another option, one that combats excessive ink consumption at the font level: Ecofont, a free typeface that promises to reduce ink use by up to 20 percent.
Available for Windows, Mac, and Linux systems, Ecofont looks a lot like regular old Arial, but with one key difference: holes. Each letter has lots of little holes punched out of it, meaning it requires less ink to print.
Thankfully, Ecofont is still very readable. So you can use it for your everyday print jobs, switching to a regular font only when absolutely necessary.
Obviously there are lots of outline-style fonts that would accomplish more or less the same thing. But most of them are fancy, showy typefaces–not many look like everyday Arial.
One thing I discovered upon installing Ecofont is that it's been ages since I installed a new font, and I'd pretty much forgotten how. If you need a refresher course like I did, you can find help on the Ecofont download page.
Rick Broida writes PC World's Hassle-Free PC blog. Sign up to have Rick's newsletter e-mailed to you each week.