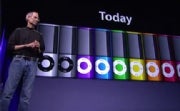 Apple announced today that record iPhone and Mac sales drove profits up 47 percent, far exceeding Wall Street expectations. News of the phenomenal quarterly results sent Apple stock to a new all-time high of $204 in after-hours trading.
Apple has had the Midas touch recently. Steve Jobs is like the Walt Disney of technology and the gadgets that evolve from his imagination and under his direction are part computer, part magic. Apple has a way of fluidly combining form and functionality in a way that makes its products as aesthetically pleasing as they are capable.
All of that being said, Apple is going to face a steep, uphill battle trying to repeat a quarterly performance like that again. First of all, the stellar year-over-year growth in profit could be as much a commentary on a sluggish 2008 as an indication of a successful 2009. The 47 percent growth is relative to the same quarter last year so it has to be viewed in that context.
Apple managed to capture record Mac and iPhone sales, but sales of Apple's iPod music devices is slipping and Apple has garnered its share of criticism and made some enemies along the way. Google, which has been an Apple ally, has had a rather public falling out with Apple, creating a bitter rivalry between the two in a number of areas where the two compete head to head.
The iPhone revolutionized the smart phone and has been a tremendous success for Apple. In recent months though Apple's business practices for approving iPhone apps has drawn the attention of the FCC, and the exclusivity agreement between Apple and AT&T is slowly becoming an Achilles heel for both companies. Analysts have suggested that Apple could double iPhone sales by ending exclusivity and distributing the iPhone through other wireless providers as well.
Unfortunately, Apple may have made enemies with the wrong company and that ship may have sailed. After months of rumors that Apple and Verizon were in negotiations to bring the iPhone to Verizon no agreement has materialized. Verizon instead has paired with Google to develop smart phones on the Android mobile operating system.
Introducing Droid. Verizon unveiled some details of the upcoming collaboration with Google and Motorola. The specifications of the device and the preliminary reviews suggest that the iPhone's days of virtually unchallenged dominance are nearing an end. The Droid marketing campaign attacks the iPhone directly–pointing out all of the features Droid has that the iPhone lacks.
Then, there is Steve Jobs himself. There were concerns earlier this year when Jobs was out for medical reasons that he may not return to lead Apple. Unlike any other technology company, Apple is a reflection of its leader. Lots of companies make computers, mobile phones, or portable music players, but Steve Jobs manages to somehow make these devices into phenomena with a nearly religious following.
Apple has managed to increase sales and profit amid a global recession. That is no small feat. Forces are gathering at the gate, though, and Apple is going to have to come up with some new tricks to have a repeat performance.
Tony Bradley is an information security and unified communications expert with more than a decade of enterprise IT experience. He tweets as @PCSecurityNews and provides tips, advice and reviews on information security and unified communications technologies on his site at tonybradley.com.