The punches just keep on coming in the Android smartphone game — and this time, the manager himself may be getting into the ring. Google is preparing to unveil its own custom Android phone, a report published at TheStreets.com claims. If true, the move would mark Google's first foray into the Android phone fray and could signal a serious shake-up to America's carrier-driven smartphone market.
Google-Android Buzz
News of the alleged Google phone comes by way of Northeast Securities analyst Ashok Kumor, who tells TheStreet Google's own "designer partners" made him privy to the plans. The phone will be an unlocked device sold directly through retailers with no specific carrier requirements, Kumor says.
What else? The phone will reportedly be produced through some as-of-yet unnamed third-party manufacturer — possibly HTC — and will feature Google branding. It'll use a Qualcomm chip, Kumor assures, and will be available before the end of the year.
TheStreet's story goes on to say that Google is also building its own line of Chrome OS-based netbooks. The machines are said to be a joint effort with Quanta and are predicted to become available by summer of 2010.
Remember: This is all just one guy's assertion right now. Google has yet to go on the record in response to the claims. Google's representatives, in fact, describe the report as "market rumor," telling me they don't comment on such speculative matters.
Verizon Droid and Other Android Comparisons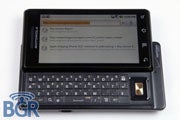 The Google-Android word comes just days after Verizon announced its own Android offering: the highly anticipated Droid phone, introduced with a buzz-building and iPhone-attacking ad. The Verizon Droid, made by Motorola and set to hit stores in November, is the latest in a string of Android devices on the way from U.S. carriers. (For a complete look at all the Android phones currently under development, see "Verizon's Droid Phone and the Android Army.")
A Google-specific phone, however — at least, one like the device Kumor has described — would be drastically different due to its unlocked nature. Most popular American smartphones are tied to singular carriers and require lengthy service contracts for optimal pricing. Sprint's upcoming Samsung Moment, for example, actually costs $479.99. It's only after a series of "savings" and "rebates" provided when you sign a Sprint contract that the device drops down to the far more affordable $179.99 rate.
Google-Android Considerations
Before you get too excited about the idea of a Google Android phone, consider the potential implications of such a device from Google's perspective. The company is starting to make huge strides in getting manufacturers to develop devices for its Android platform. Creating a handset of its own — making itself a competitor rather than a partner and facilitator — could conceivably hamper those efforts.
Here's the thing: Google could achieve more market share by offering its own custom-branded Android phone. At the same time, though, Android's numbers are already growing quickly and showing strong momentum for the future. Would the risk of alienating current supporters be worth Google's potential gains?
The idea of a slick, fully open, and noncarrier-specific smartphone is certainly intriguing. Based on what we know so far, though, you may not want to hold your breath just yet.
JR Raphael satirizes smartphones at eSarcasm, his geek humor hideaway. His 26 Simple Rules of Cell Phone Etiquette will make you laugh, cry, and possibly hurl.